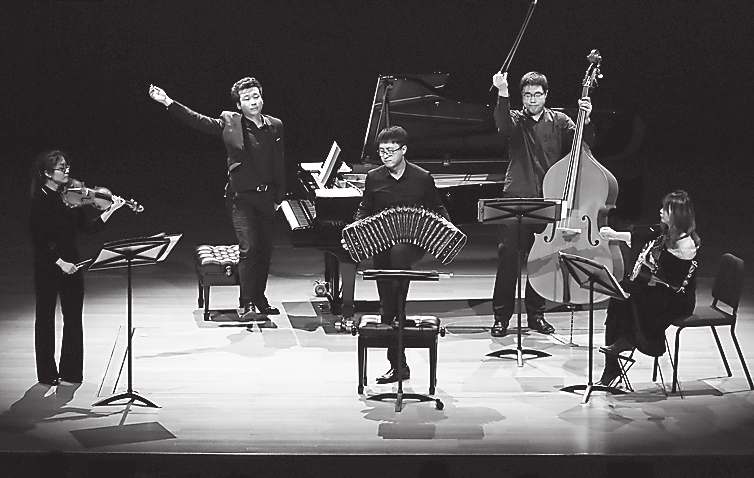 Firefly Chamber Musicians
The Firefly Chamber Musicians, staffed by young musicians who graduated from prestigious music conservatories, will perform a night of fan-favorite movie scores from Joe Hisaishi. Highly reputed for his movie scores, especially his scores for Hayao Miyazaki's anime productions, Hisaishi worked on all but one of the animator's films. Sentimental, warm and shimmering, Hisaishi's music not only supports the story being told on screen but tells stories of its own.
Time: 8 p.m., Oct. 22
Tickets: 60-280 yuan
Booking: WeChat account "szyyt_piao"
Our Tango
Chinese sextet Our Tango will play a night of Argentine tango composer and bandoneon player Astor Piazzolla's pieces to commemorate the 120th birth year of the master.
The program will include "Buenos Aires Hora Cero," "Concierto Para Quinteto," "Serie del Angel," "Escualo," "Invierno," "Oblivion" and "Libertango."
Piazzolla revolutionized the traditional tango into a new style termed "nuevo tango," incorporating elements from jazz and classical music. A virtuoso bandoneonist, he regularly performed his own compositions with a variety of ensembles. His fusion of tango with this wide range of recognizable Western musical elements was so successful that it produced a new individual style transcending those influences.
Time: 7:30 p.m., Oct. 23
Tickets: 98-298 yuan
Booking: WeChat account "szyyt_piao"
Grand Song of the Dong Ethnic Minority
The Grand Song of the Dong Ethnic Minority is a folk song tradition of China's Dong ethnic minority. The chorus is a cappella as in Western music but the songs of the Dong chorus are intimately linked to all aspects of Dong culture.
Dong songs have been used as a means to tell stories and express emotions for more than 2,500 years. The imitation of natural sounds, such as the chirps and tweets of birds and the sound of flowing water are an integral part of Dong songs, reflecting their close association with nature.
The Shenzhen concert will be presented by the Grand Song of the Dong Ethnic Minority Troupe from Liping County, Guizhou Province. The troupe has performed around the world since its founding in 1972. Chinese tenor Zhao Yi and lyric soprano Li Hongmei will also be featured.
Time: 8 p.m., Oct. 23
Tickets: 80-580 yuan
Booking: WeChat account "szyyt_piao"
Free concert
Young Chinese pianist Bi Cong will play Liszt's "At Lake Wallenstadt" and Schubert's "Wanderer Fantasy" at a concert. He will also collaborate with Chinese violinist Lu Cailing and Chinese cellist Zhang Hui to present the first movement of Brahms' "Piano Trio No. 1" after accompanying Lu in Drdla's violin piece "Souvenir" and Zhang in Schumann's cello piece "Traumerei."
Time: 3 p.m., Oct. 24
Tickets: Free
Booking: WeChat account "szyinyuet"
Hong Zhiguang
Chinese baritone Hong Zhiguang will sing songs from Mozart's "The Magic Flute," and other easy-listening songs from Western operas and musicals.
Hong studied at the China Conservatory of Music, Mannes School of Music and the Yale School of Music. He received full scholarships from both Mannes and Yale and was named the Metropolitan Opera National Council Boston's district winner and honored with the first prize at the First International Opera Competition in Hong Kong. He was also the baritone soloist in Beethoven's "Symphony No. 9" with the Washington Ark Foundation at Strathmore Music Center.
Time: 8 p.m., Oct. 24
Tickets: 180-680 yuan
Booking: WeChat account "szyyt_piao"
Venue: Shenzhen Concert Hall, Futian District (福田区深圳音乐厅)
Metro: Line 3 or 4 to Children's Palace Station (少年宫站), Exit D(SD News)