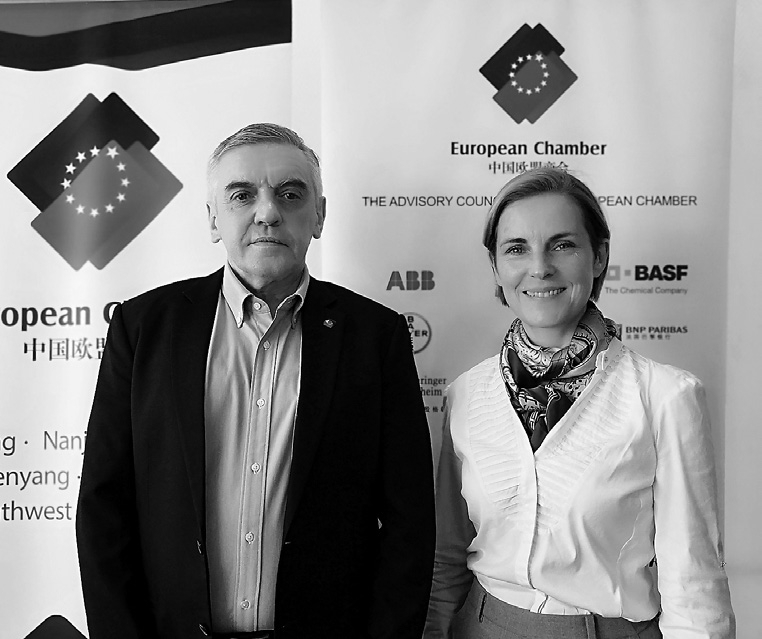 Zhang Yu
JeniZhang13@163.com
THE new plan for further developing the Qianhai Shenzhen-Hong Kong Modern Service Industry Cooperation Zone gives a fresh impetus to the Guangdong-Hong Kong-Macao Greater Bay Area's (GBA) development, which already has a good momentum of vigorous growth, said two executives from the South China Chapter of the European Union Chamber of Commerce in China.
"The GBA is a good environment already, and the expansion of Qianhai is another boost to GBA's integrated development as well as to Shenzhen, which has always played a leading role in China's reform and opening up," said Klaus Zenkel, chairman of the chamber's South China Chapter, in an interview Tuesday.
Zenkel's views were echoed by Francine Hadjisotiriou, general manager of the chamber's South China Chapter. According to Hadjisotiriou, the concept of the GBA is a fantastic initiative to strengthen the coordinated development of Guangdong, Hong Kong and Macao.
"It is encouraging to see that, two years after the GBA development plan was announced, some important and concrete steps have been taken in response to rising public expectations," said Hadjisotiriou.
Hadjisotiriou believed that the free flow of talents will provide greater diversity in Qianhai, and that diversity will create more innovation and contribute to greater ideas and new changes.
"Innovation is the DNA of Shenzhen and the GBA, so we truly feel that pooling in more domestic and foreign talents will help continue diversity, and as a result, good innovation," said Hadjisotiriou.
She added that it is essential to have the government's support to allow overseas talents, experts with "China experience," and entrepreneurs to come to Shenzhen, as these groups of people would have added greater value to local companies.
The new Qianhai plan envisages that the zone will better play an exemplary and leading role in GBA's development and boast a world-class business environment and an engine for high-quality development by 2035.
"To create a first-rate business environment, the government must have a sound IPR protection system in place. Shenzhen is building it up and that's a good move," said Zenkel. "The government should work to gain 100 percent confidence from foreign investors that the system is working well."
According to Zenkel, the master plans of further developing Qianhai, constructing the Guangdong-Macao in-depth cooperation zone in Hengqin, and building a metropolitan area in the northern part of Hong Kong are all positive signs for Guangdong, Hong Kong and Macao's integrated development.
"It's not just talking, there are some practical actions. Sooner or later, the region will be integrated as a real Greater Bay Area," Zenkel predicted.