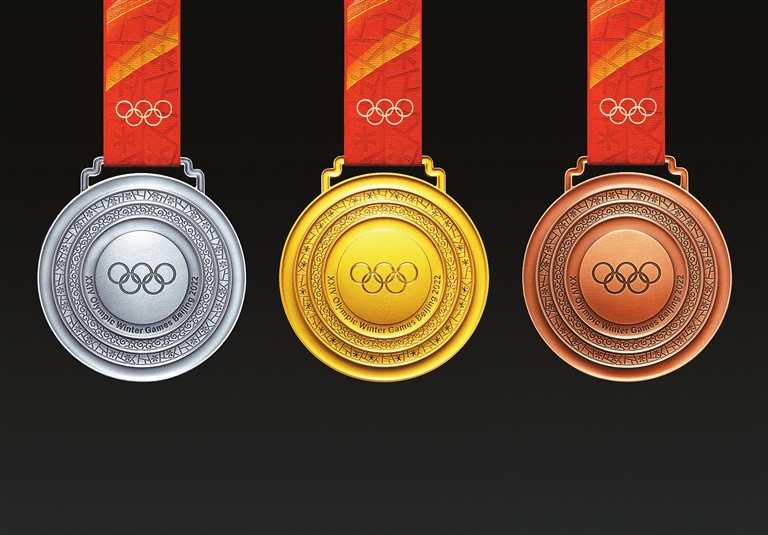 BEIJING celebrated the 100-day countdown to the 2022 Olympic Winter Games on Tuesday with the unveiling of the medals for the Games.
Named "Tongxin," meaning "Together as one," the medals feature five concentric rings embodying the traditional Chinese philosophy of harmony between heaven, earth and human beings. The rings also symbolize the Olympic rings, carved in the inner circle, and the Olympic spirit uniting the world through sports.
Less than a week after the Olympic flame arrived in China after it was lit in Ancient Olympia, Greece, the unveiling of the medals design is another milestone as preparations for Beijing 2022 to move into their final stages.
Having successfully hosted the 2008 Summer Olympics, Beijing will soon become the first city to have staged both summer and winter editions of the global sporting spectacle.
Beijing 2022 organizers have taken advantage of the Winter Olympics to showcase Chinese culture and technological innovations, just as previous host nations have done.
The medal design was inspired from a piece of Chinese jadeware called "Bi," a double jade disc with a circular hole in the center. Just as jade is considered as an auspicious and invaluable ornament in traditional Chinese culture, the medal is a testimony of honor and unceasing efforts by the athletes.
"When athletes hold the medals in their hands, they will first touch the details embodying ancient Chinese culture. Then if they look closely, they will see the cloud and snowflake patterns on the obverse side, and celestial patterns on the reverse side," noted chief designer Hang Hai.
The torch for the 2022 Olympics spirals upward to resemble two overlapping fluttering ribbons, with its curve drawing inspiration from a leaf. When one bearer passes the flame to another, the two torches will lock together like a firm handshake, the idea of which comes from the Kong Ming Lock, a traditional Chinese toy.
In addition, the pictograms for the 2022 Games were inspired by Chinese calligraphy and seal carvings.
Some of the 2022 Games venues embody the essence of Chinese culture just as eloquently. The "S-type" curve of the National Ski Jumping Center, located in the Zhangjiakou competition zone, is nicknamed "Snow Ruyi" as it resembles the shape of a "Ruyi," a traditional Chinese ornament symbolizing good luck.
Technology such as driverless cars, 5G-enhanced transmission and cloud-based broadcasting will also be on show during the 2022 Winter Games.
For the first time in Olympic history, Beijing used carbon dioxide in ice-making procedures. Not using ozone layer-harming Freon as a refrigerant in ice making is expected to help reduce carbon emissions equivalent to that of 3,900 cars per year, and cut emissions from the activity to nearly zero. (Xinhua)