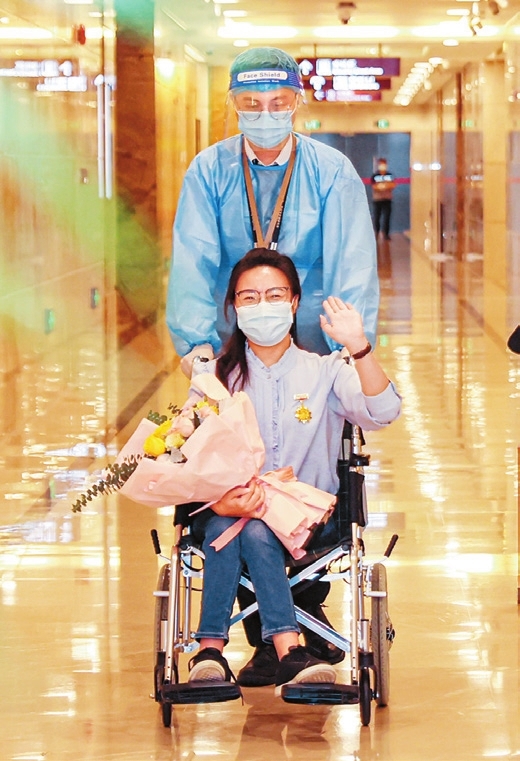 ZHANG YINGYING, director of Shenzhen Yuyan Caring and Career Development Center for the Disabled, was awarded the title of 8th National Moral Model in Beijing on Friday.
She is the sixth person from Shenzhen to receive the honor, according to a Shenzhen Special Zone Daily report.
Zhang was appointed as "helping another person," one of five categories of the honor. Although she is physically handicapped and needs a wheelchair, Zhang is committed to assisting the disabled with employment and entrepreneurship by establishing four social organizations, two enterprises and providing jobs for over 2,700 disabled people for 10 years. She is known as the "brave swallow" for practicing the spirit of unremitting self-improvement and helping herself and others.
Zhang had polio in childhood, which weakened her leg muscles. However, she didn't give up her passion for life. With her family's care, she grew up into an outgoing, confident and self-reliant woman with a generous and helpful heart. The well-educated and optimistic woman chose Shenzhen, a city with vitality, inclusiveness and friendliness to start her career serving disabled people after graduating from university in 2011. "It is not easy for people with disabilities to find a job, but Shenzhen's warmth and inclusiveness had strengthened my decision to stay," she said.
"I wanted to break down stereotypes about the disabled. Their career choices are not limited to factory workers or massage therapists," Zhang said. In 2016, she quit her job, and registered and established Yuyan center with friends who are also dedicated to public service. The center has 90 percent of employees from disabled people's families and offers services like career training and mental health consultations.
In 2018, Zhang joined hands with Longhua District Disabled Persons Federation to set up an employment and entrepreneurship base for the disabled, called IC Aichuang Space in Minzhi Subdistrict. The base has six types of services, including resources integration, psychological support, business incubation, skill training, legal service and policy consultation. It has organized over 150 skill training activities and incubated 23 companies and social organizations such as the national high-tech enterprise Shenzhen Interheart Corp.
The IC Aichuang Space project trains the disabled people to various businesses' needs so that they would be qualified for more diverse positions in the job market. As of now, the project has developed more than 10 kinds of jobs for the disabled, such as internet development, translation, foreign trade, education, floral art, artificial intelligence, 3D printing and human resources. Some people with severe disabilities can even work from home. In addition, her team also supported disabled people in the poorer regions in southwestern China's Guangxi Zhuang Autonomous Region to lift them out of poverty.
Now, Zhang and her husband Xin Junhui, a lawyer and also a person with disability, are living in a public rental housing complex in Longhua, which was open to disabled people for application. In 2015, she moved to the apartment equipped with a range of disability-friendly facilities.
Zhang said she wanted to pay back society's kindness through her efforts helping people like her. She is one of the city's volunteers and is serving Longhua District Public Civilization Promotion Association to promote the construction of a civil city in Shenzhen. The organization, with around 40,000 members, has actively participated in building barrier-free communities.  
(Xia Yuanjie)