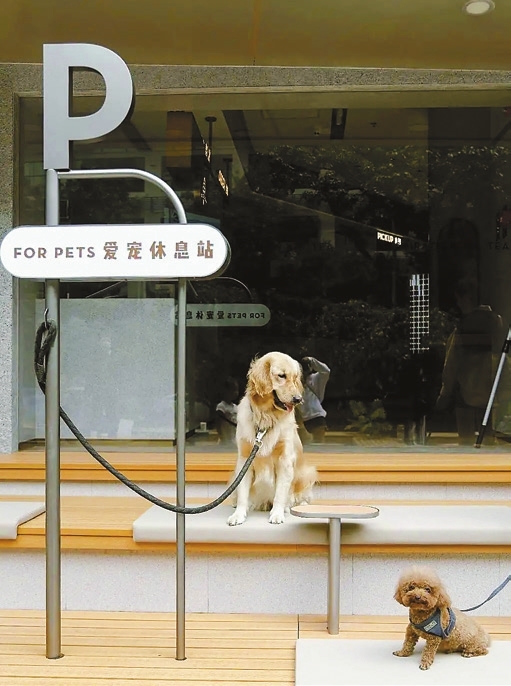 MORE and more restaurants and cafes in Shenzhen have turned dog-friendly in recent years, according to Shenzhen Evening News.
A popular tea chain piloted its first dog-friendly store in Luohu's ViCity shopping mall, where shoppers can take their dogs to a pet rest station equipped with waste bins and food and water bowls designated for pets.
The store also provides free paper bowls, disposable gloves and waste bags for dog owners.
"Our place is becoming a social center for young pet owners. They can enjoy tea while chatting with other pet owners," a store staffer said, adding that he once saw visitors bring a rabbit and a duck to the store.
A resident surnamed Li said that in the past, it was common for him to be turned down when bringing pets to restaurants. Now, he appreciates these pet-friendly stores.
Another citizen identified as Xiaojiang, who owns a Maltese, said that every time she takes her dog out, she would ask restaurants in advance if they allow pets in. She also believes that not disturbing other customers is equally important.
The Daily found a Western food restaurant in Nanshan, a barbecue restaurant in Futian and a cafe chain have made some of their stores dog-friendly.
In addition to the catering industry, some shopping malls like COCO City in Longhua District are also pet friendly.
Shenzhen had microchipped some 156,000 pet dogs as of Sept. 30 while the number of pet cats and dogs in the country's cities and towns exceeds over 100 million, according to public data.
He Ling, professor from Shenzhen University's College of Economics, observed going pet-friendly is a trend signaling the civilization level and diversification of the entire society. "Shenzhen is doing well in the country in this regard," He said.
He added that albeit going dog-friendly is a good idea to form unique social cultures in consumption scenarios, it also presents certain risks in terms of safety and sanitation.
(Wang Jingli)