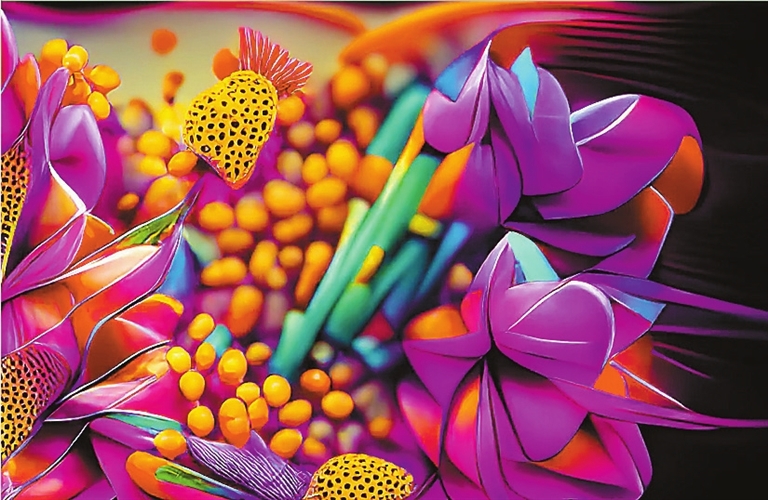 THE Global Blockchain Art Season, now ongoing in Shanghai through Jan. 2, 2022, responds to a new trend in global art communities — the creation, exhibition and trade in art based on blockchain technology.
The event is showing more than 100 works by artists from across the world, and holding forums and workshops at the Sino-French Institute of Arts and Design Management in Shanghai. All the works are shown on 200 screens on-site, rendering a scene with a strong visual impact on visitors.
At the art season, which was organized by the Sino-French Institute of Arts and Design Management, Cathay View Culture and Neal Digital, the institute also launched the Lab of Global Blockchain Art and Management to focus on the creation, exposure, study and trade of works of the nascent blockchain art concept around the world.
Affiliated to the Central Academy of Fine Arts in Beijing, the Sino-French Institute of Arts and Design Management aims to provide a panoramic view of the Chinese art pioneers who studied in France in the early 20th century and their later seminal influence on China's art history.
Since its debut in 2008, blockchain technology is achieving new heights every day. It incorporates the use of a decentralized ledger for information storage. With its infiltration into industries globally, companies are seeing more benefits that blockchain technology offers. Security and ease of transactions and record-keeping are getting better by the day with more innovations applied to the technology.
Blockchain is already changing a lot of artistic domains, such as the music industry, especially when it comes to allocating royalties. Innovative art market players are examining the advantages of using the blockchain in the visual arts, whether it be regarding auction houses, authenticity of digital art, or the development of an exclusive art-world currency.
Artists themselves are including or implementing the blockchain into their works. Artists are not only getting more involved in digital arts, but are also recurring to digital currencies to exchange corporeal or virtual art.
Innovative solutions can be found in painting techniques and smart materials, such as associating a record on the blockchain to a serial number on the back of an artwork, or applying traceable paint or liquid onto physical items. This could add monetary and innovative value to the work, as it would provide owners with a solution to track the work in case of theft.
(SD News)