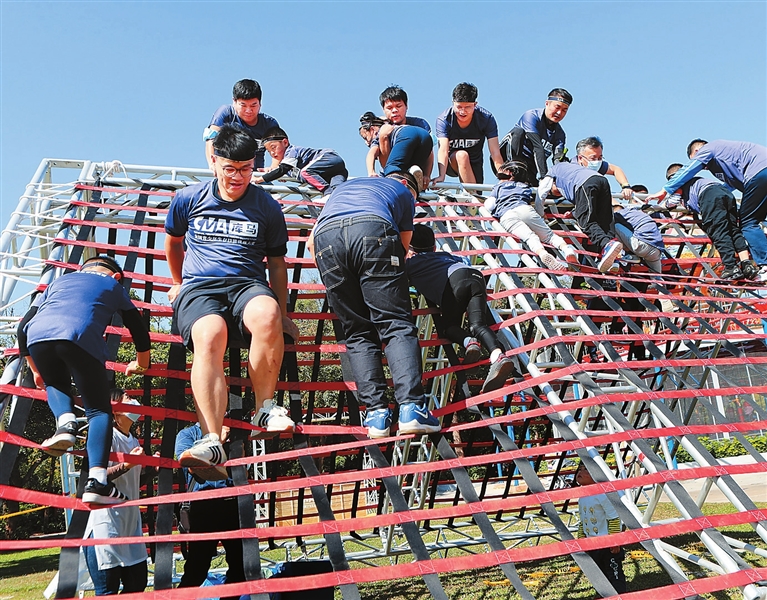 THE CMA National Youth Survival Skills Challenge was launched at Mission Hills Sports & Eco Park in Longhua District yesterday, attracting 400 young warriors and some parents.
The challenge is part of the 2021 Mission Hills Youth Sports Carnival, which includes various sports events.
Organizers also announced that the sports park and Children's Weekend organization will launch a long-term strategic cooperation to jointly hold a series of various themed activities.
The challenge race is an outdoor event designed for children to overcome different obstacles. The competition is divided into three groups for children aged 4 to 14 with different task obstacles and competition distances.
The competition aims to cultivate children's abilities in problem solving and overcoming difficulties. At the same time, they can also learn and practice several scientific outdoor survival skills.
Organizers said that there are 19 obstacles at minimum and a maximum 31 obstacles in the groups.
For example, challengers need to climb over a warrior's gate, making fire in the field in a short time and cross a demon swamp and so on.
The obstacle program covers challenges of physical fitness, courage, survival skills, thinking and memory, coordination ability and other dimensions.
"It was exciting and fun," said a young challenger surnamed Li. "My legs ache but it feels cool!"
Next month, the 2021 Mission Hills Youth Sports Carnival will continue to present youth events such as tennis, Frisbee, skateboarding and golf.
(Windy Shao)