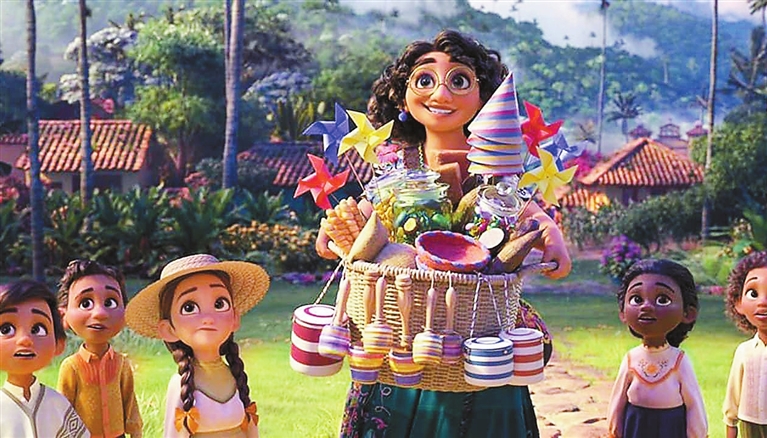 With a voice cast of mostly Latino actors and animated characters of brown skin tones, Jared Bush, Byron Howard, and Charise Castro-Smith's "Encanto" uses magical realism to add a vibrant and distinctly South American flavor to what could have otherwise been just another ordinary Disney story.
The film taps into the mythologies and customs of traditional Colombian society.
Flashbacks show a ruthless group of invaders on horseback attacking villagers, ultimately killing the young husband of Abuela Alma Madrigal (María Cecilia Botero), the matriarch of the Madrigal clan.
The members of the Madrigal clan were all, until recently, granted a magical power from an enchanted, ever-burning candle. While Abuela is the head and heart of this clan, "Encanto" follows the teenage Mirabel (Stephanie Beatriz), the only member of her family who hasn't been bestowed with a unique power, as she struggles to come to terms with her relative ordinariness.
Unlike the teen protagonists of many modern American animated films, Mirabel is self-assured rather than moody. She remains determined to find ways to be helpful even when she gets in the way of her various family members — among them her shapeshifting cousin Camilo (Rhenzy Feliz) and older sisters, Luisa (Jessica Darrow), who possesses superhuman strength, and the all-too-perfect Isabella (Diane Guerrero), who can make plants grow and flowers bloom, as well as constantly butts heads with her equally stubborn youngest sister.
For a time, the Madrigals appear to be an idealized vision of Latino culture. But as the storyline of Alma's son Bruno (John Leguizamo), who was banished from the titular village years prior, comes to the forefront, it becomes clearer that "Encanto" is interested in more than simply celebrating cultural exceptionalism. The accepted social contract that "We don't talk about Bruno" hints at the cracks that have already surfaced in the Madrigals' otherwise perfect image as protectors of their remote community, and there's only more to come.
As Mirabel begins to see visions of literal cracks developing in the house, none of her family members believe her. When she begins investigating this phenomenon and eventually reconnects with Bruno, "Encanto" peers beneath the cheerful, happy-go-lucky demeanor of the Madrigals to find hidden vulnerabilities and inner struggles that their powers have allowed or, in some cases, forced them to mask. The fanciful, whistle-while-you-work mentality that's initially presented not only as a defining trait of the family, but a source of their joy and pride, ultimately reveals itself to be something more complicated.
"Encanto" doesn't steer away from the inevitable happy ending one expects from most animated films geared toward children, but it surprises by bringing humanity to even its most flawed characters. The film's handling of Isabella, a close variant of the traditional Disney princess, is particularly canny in how it exposes the gulf between her actions and her desires. And although the film's resolution is wrapped up a bit too quickly and cleanly, it does a fine job of conveying not only the familiar message of the importance of family, but the notion that even in the best families, it can take considerable work to keep them together.
(SD-Agencies)