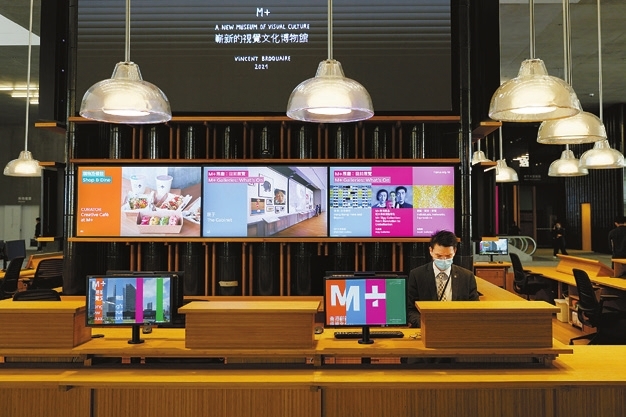 HONG KONG'S M+ museum, billed as Asia's premier art institution, has opened its doors to the public and is offering free admission for the first year.
Its opening displays include six thematic exhibitions featuring visual artworks, moving images, design objects, architectural projects and archival items from M+ Collections, which the museum has been building since 2012.
Some 1,500 works from 30 countries and regions worldwide are presented within the 17,000-square-meter exhibition space — the biggest in Hong Kong.
"M+, in terms of scale and the ambition, surpasses all local museums," Betty Fung Ching Suk-yee, chief executive of the West Kowloon Cultural District, said. "We have 17,000 square meters of gallery space, which is equivalent or on par with the Center Pompidou and Tate Modern, and indeed these museums have very close relationships with M+. They are already talking about collaborations in the future."
"Hong Kong: Here and Beyond," one of the six thematic exhibitions, focuses on the city's visual culture from the 1960s till now. Divided into four chapters, namely "Here," "Identities," "Places," and "Beyond," it presents Hong Kong through multiple and intersecting perspectives that mirror the city's dynamism.
The exhibition area of "Things, Spaces, Interactions" displays over 500 examples of design and architecture that have had a profound influence in Asia over the last 70 years.
Meanwhile, at the West Gallery, "Antony Gormley: Asian Field" displays an expansive installation of over 80,000 clay figurines selected from the original 200,000. Created by the British sculptor with around 300 villagers from South China's Guangdong Province, it reflects China's vast territory and population.
With its sheer size and wide range of contemporary art, the new landmark is expected to be a major contributor to the growth of the region's art scene and boost cultural development and exchange in Hong Kong.
(CGTN)