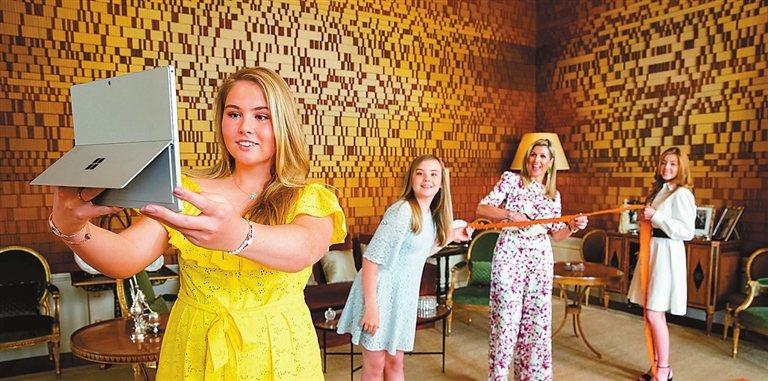 In a biography published ahead of her 18th birthday on December 7, the Netherlands' crown princess Catharina-Amalia says she is not yet ready to become monarch even though she is committed to a life in service to her country.
The book, written with approval of the government's information service (RVD), which handles publicity for the Royal House, and released last Tuesday, is the deepest look to date into the life and character of Amalia, the eldest daughter of King Willem-Alexander.
Apart from excelling at school, the book revealed that Amalia worked a part time job as waitress at a beachside cafe. The owner jokingly referred to her as their "cocktail queen."
And she said that if she were not a future queen, she might pursue a career in singing or horseback riding.
In the book, Amalia revealed a love of tiaras and jewelry, saying: "I love tiaras. Show me a tiara, and I'll know where it came from. I can recognize all the tiaras of Europe. I used to put them on from my mother. Then there would be one on her make-up table and I would have it directly on my head.
"I really liked to be in my mother's jewelry anyway. When I was very little, she was preparing for an important dinner and she shouted around the house, 'Amalia, where's that ring?'"
While the House of Orange remains popular with the majority of Dutch people, the monarchy has come under increasing criticism in recent years. Of the possibility republicans could abolish it, Amalia said she could accept that.
The royal family is highly protective of its privacy outside of formal events, and Amalia said she is self-conscious of being recognized in her day-to-day life, for instance while shopping.
"Everyone looks at you like you have a goldfish on your head," she said.
She said that if her father, 54, were to die or step down unexpectedly, she would ask her Argentine-born mother, Queen Maxima, to assume the throne temporarily.
"But I said to my father: You just keep on eating healthy and exercising a lot."
The day after her 18th birthday, Amalia will be formally introduced as a member of the council of state, her right as heir to the throne. Her father will present her to the council, while the council's chair and vice president Thom de Graaf will give a short speech recognizing the occasion.
She also announced, in the biography, her intention to take a gap year before she begins university studies. The princess is hoping to spend her post-high school year in an internship at a multinational company before beginning university studies, probably at Leiden.
Amalia had previously turned down her yearly allowance for the foreseeable future, announcing earlier this year that she doesn't intend to accept the income until she begins working in her role as Princess of Orange.
(SD-Agencies)