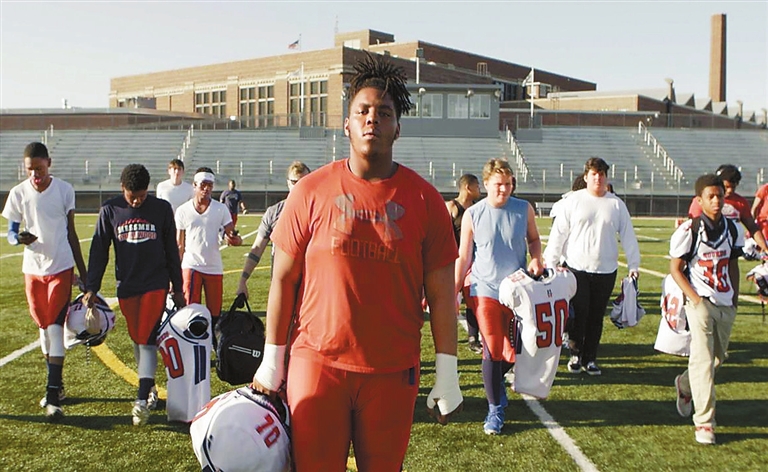 "Messwood" is a thoroughly engaging sports documentary full of interesting characters and an intriguing backdrop.
Like most of Brad Lichtenstein's films, including this year's "When Claude Got Shot," "Messwood" is set in the racially and economically segregated world of Milwaukee, where mere blocks can separate crime-ridden urban space from wealthy suburban sprawl, and rarely the two shall meet.
An exception is the "Messwood" high school football team, a shared program unifying athletes at the mostly Black Messmer High and the mainly white Shorewood High. The program is byproduct of declining football resources at both schools. The experiment, which began in 2001, produced a conference title in 2018.
Co-directors Emily Kuester and Lichtenstein began following the team in the fall of 2019 as Coach Antoine Davis is staring down a roster with high expectations and the loss of too many starters for anything to be certain. The documentary follows the team, which gets off to a bumpy start, as well as several individual players, who are learning that just because they have a uniform in common doesn't mean that Shorewood and Messmer students are living in the same world.
They have "gentle giant" Piarus, a towering right guard who only started playing late in high school and, with still tentative interest in the game, is beginning to draw the attention of colleges. Piarus illustrates a gap between the Messmer players, for whom football is sometimes the only opportunity to get out of Milwaukee, and the Shorewood boys, for whom college is an expected privilege.
Other subjects include Max, a lovably goofy offensive lineman whose family has basically adopted Amarion, who goes to Shorewood even if his family seems to live on the wrong side of the tracks. Max and his mother want to support Amarion, but they can't begin to fathom or help with the spiritual wounds he feels from the murder of his uncle. Milwaukee's violent side has also scarred running back Fred, playing in honor of his late brother.
It's all held together by Coach Davis, one of those typical tough-love authority figures a documentary like this demands. He's dedicated to his team and to his sport with a near-myopia, which comes out when he makes statements like "I think in society we talk about race too much," one of several observations from the Black coach that leave the off-camera directors slightly confused.
It's a snapshot of contemporary America that the Black players and parents in the documentary explain the racial tensions surrounding the football team without hesitation or questioning, while the white parents deny it completely.
Ultimately, "Messwood" is a good film, despite its limitations, despite the denials, absences and evasions.
(SD-Agencies)