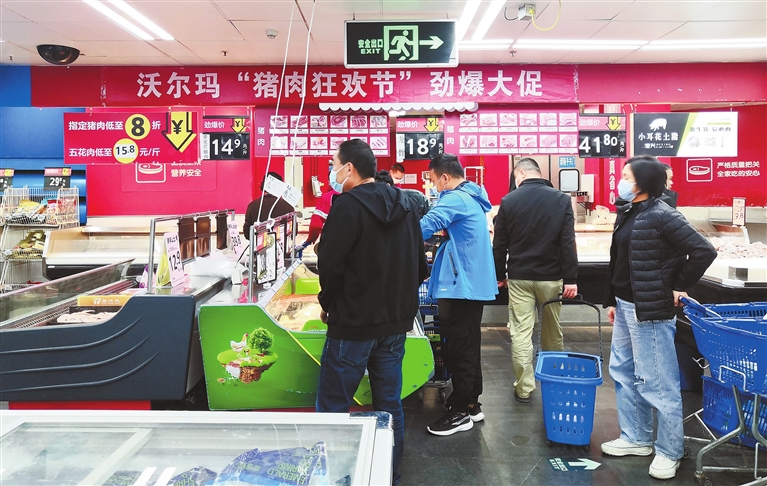 Zhang Yu
JeniZhang13@163.com
AFTER 25 years' operation, Walmart's Honghu store, the first Walmart hypermarket in Shenzhen and on the Chinese mainland, will put up the shutters Dec. 7.
The store on Honghu Road in Luohu District first opened its doors Aug. 12, 1996. This year marks the 25th anniversary of both the store's opening and Walmart's presence in China.
Walmart China, which is headquartered in Shenzhen, told Shenzhen Daily in an email Tuesday that its Honghu store will close due to the property owner's plans to upgrade the entire property.
Walmart stated that it reviews its stores' performance on a regular basis to ensure long-term business optimization, and that opening or closing stores is normal in the retail industry's daily operations.
"China is a market full of opportunities for development. We have full confidence in the Chinese economy and market. Walmart China will open more Walmart stores, Sam's Club stores and distribution centers to provide more seamless online and offline services to its customers and members," the retail behemoth said.
Quite a few customers were seen shopping at Walmart's Honghu store Tuesday night, despite empty or half-empty shelves at the three-story supermarket.
"The store's closure will have little impact on my life because there are many other places to shop, both online and offline," a citizen surnamed Chen, who was shopping with her husband and son, told Shenzhen Daily.
"I heard the news on Douyin and came specially to shop today," another citizen surnamed Xing said. "I'm sorry it's going to be closed. I believe it has something to do with the company's operations, as well as increased competition from e-commerce platforms and livestreaming commerce, among other things."
Hypermarkets' business model has lost its competitive advantage as China's retail market has embraced massive changes, where closing stores and stopping losses has become the norm. Walmart China closed about 80 stores between 2016 and 2020, according to partial statistics.
However, Walmart China's net sales and comparable store sales in the third quarter increased 18.8 percent and 16.5 percent, respectively, and e-commerce net sales grew by 96 percent, according to the company's recently released third-quarter fiscal results.
Sam's Club, a Walmart-owned membership warehouse club, demonstrated strong performance in the Chinese market with double-digit growth in comparable store sales and membership.
Walmart China opened its first Sam's Club store in Shenzhen in 1996. It currently operates 36 Sam's Club stores in 23 cities across China with over 4 million Chinese members and plans to open more such stores in the years to come.
Last November, the retailer announced it will open a Sam's Club flagship store in Qianhai, reportedly the largest of all Sam's Club stores around the world.