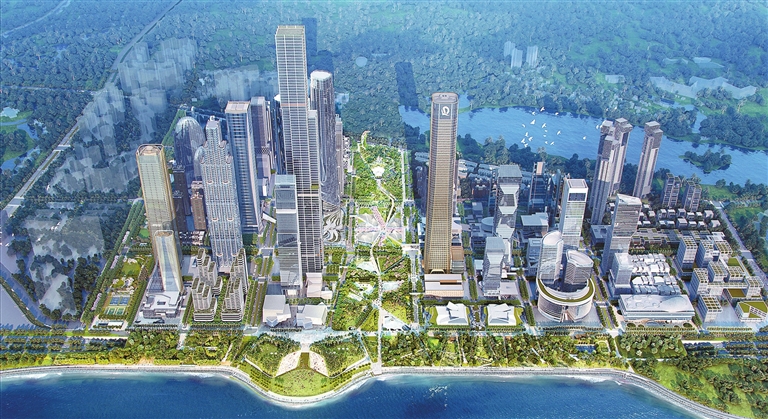 A DETAILED landscape design titled Super Campus, the winning design for the central green axis of the Shenzhen Bay Super Headquarters Base, has been recently completed, a source from the city's construction bureau said.
The design, made by TLS Landscape Architecture (Berkeley and Shanghai) + AZPML Architecture Ltd. (London and New York), seeks to create an interactive model for multilevel open spaces as a collaborative hub for global interconnection.
The design, inspired by a university campus' open model, links business and research communities not only with each other, but also with Shenzhen's urban fabric and its ecological systems.
Super Campus includes a botanical forest, an exuberantly vegetated transportation area, a cultural performance area, a coastal zone and a western belt park.
The botanical forest park is at the central axis' northern section, and it is a venue for science popularization for typical biomes in the city's forests and the Guangdong-Hong Kong-Macao Greater Bay Area.
The transportation square is in the axis' middle section, whose underground transportation hall is covered with transparent crystal hills, a unique landmark that integrates into the park through visual links with underground forests, ground square and surrounding architectures.
The performance and arts park in central axis' southern section is a leisure area for performing artists and arts fans to exchange, practice, rehearse and perform. The area is connected to cultural facilities in nearby neighborhoods.
The coastal park is composed of wetlands and habitats for migratory birds. The wetland park is connected to future cultural facilities for visitors to view Shenzhen Bay. From the outdoor theater in the park's south end, visitors can have a panoramic view of Shenzhen Bay as well as the grassland for outdoor activities.
The western belt park is a sports area with sporting facilities, cafeterias, water fountains and a tree formation square.  (Han Ximin)