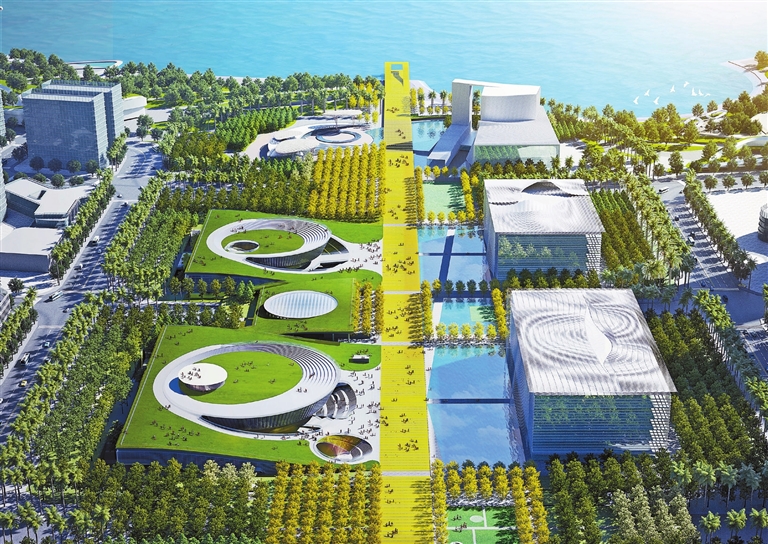 THE Bay Area Store of Shenzhen Book City, dubbed as Eye of Bay Area, will be built in Qianhai and become the largest bookstore in China, sources from the Shenzhen Municipal Public Works Bureau on Wednesday said.
The future cultural landmark, with a floor space of 130,000 square meters, also features architecture that showcases folk customs of the Guangdong-Hong Kong-Macao Greater Bay Area. It is located at the center of Bao'an Central Business District's central axis. The project was handed to the city's public work bureau for construction in October this year.
It is a major step for Shenzhen Publishing Group to build a global model city for reading through "one district, one bookstore" strategy.
From an aerial view, the book city and folk customs museum, two cylindrical structures, look like two jade dishes, imposing on the Central Axis Park, echoing symmetrically to two square-shaped structures, Bao'an Library and Bao'an Children's Palace, on the axis' other side.
As a next-generation bookstore facing the future, the landmark's design adopts an "open architecture" strategy to provide uninterrupted strolling route along the central axis. More than 74 percent of the bookstore's floor space is underground, enabling cultural activities not to be confined within enclosed architectural spaces. The underground space is extended through the Metro stations which are underground.
The bookstore and the folk custom museum are a miniature city which incorporates businesses, exhibitions and mini theaters for performances and venues for creative activities. The structures' interior space will be linked through a tour route and divided into multiple public spaces by different forms of stairs and slopes, intertwined with bookstores dedicated to books from overseas, including those from Hong Kong, Macao and Taiwan.
(Han Ximin)