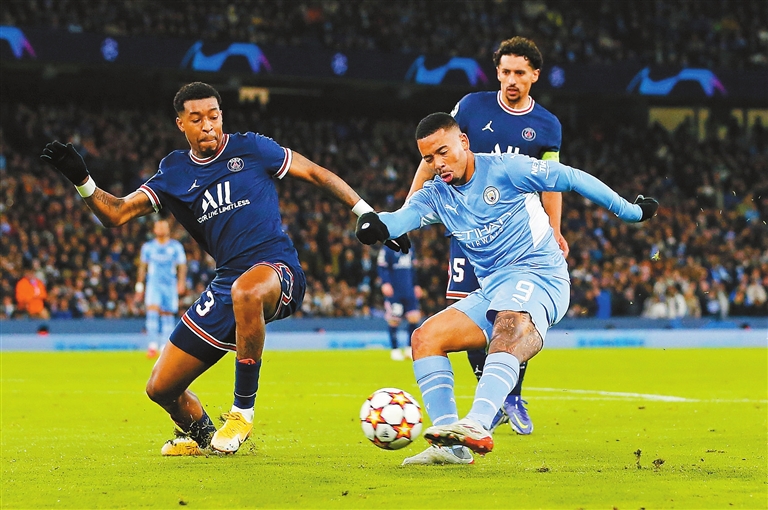 MANCHESTER City beat Paris Saint-Germain (PSG) 2-1 Wednesday but both clubs qualified for the last 16 of the Champions League, along with Real Madrid, Inter Milan and Sporting Lisbon.
PSG had its 11 players on the field at the Etihad Stadium — with Lionel Messi, Neymar and Kylian Mbappe leading the attack — but it didn't always seem there was a complete team out there.
It was the less glamorous Brazilian attacker Gabriel Jesus on the scoresheet rather than Neymar in the chill of Manchester.
Brought off the bench in the second half, Jesus completed the City comeback with a scuffed shot after being teed up by Bernardo Silva.
City clinched top spot in Group A and a meeting with a runner-up in the round of 16 in February.
"It was a bit frustrating in the first half," Silva said, "because it felt like we were controlling the game, we felt like we were pressing high, winning the ball, having the possession but it felt like we were not scoring again."
The clash of the competition's wealthiest teams, which are yet to win European soccer's top prize, fully came to life in the 50th minute when Mbappe put PSG ahead after an interchange between Messi and Neymar.
But the attacking dominance by City that defined the first half saw Raheem Sterling's outstretched left foot nudge in a cross from Kyle Walker to equalize before the winner came in the 76th.
PSG is also sure of going through as runner-up thanks to Leipzig beating Club Brugge 5-0.
All four English teams will now be in the the knockout stage with a game to spare, with City joining defending champion Chelsea, Liverpool and Manchester United.
Separately, Karim Benzema scored just hours after being found guilty by a French court in a blackmail case as Real Madrid eased past Sheriff Tiraspol 3-0 to reach the knockout stage.
The French striker notched his team's third goal of a confident display in Transnistria after David Alaba's free-kick and Toni Kroos' strike as Real players took revenge for their shock 2-1 loss to Sheriff in Madrid earlier this season.
Moreover, Sporting Lisbon reached the knockout phase for the first time since the 2008-2009 season as the side beat Borussia Dortmund 3-1.
(SD-Agencies)