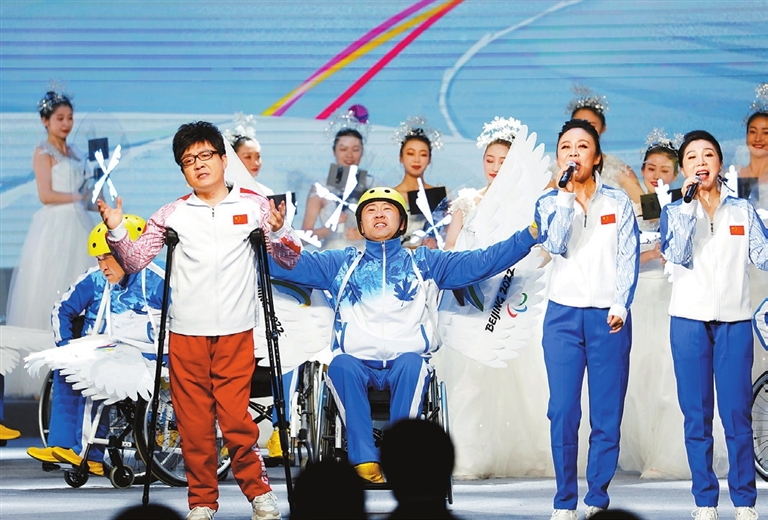 AS a countdown ceremony Wednesday marked 100 days to go before the Beijing Winter Paralympic Games, the Beijing 2022 organizers are ready to welcome Paralympic athletes from all over the world.
With the slogan "Health, Joy and Energy," the Beijing 2022 Paralympic torch relay schedule was released at the ceremony, aiming to encourage people with disabilities across the world to enjoy winter sports and embrace a promising future.
Cai Qi, secretary of the CPC Beijing Municipal Committee and president of the Beijing Organizing Committee for the 2022 Olympic and Paralympic Winter Games (BOCOG), said at the ceremony that China is committed to hosting a green, inclusive, open and clean Games in accordance with the Winter Olympics.
International Paralympic Committee (IPC) President Andrew Parsons attended the ceremony via a video link and praised the preparation and organization of Beijing 2022.
After Beijing and Zhangjiakou won the bid in 2015 to host the 2022 Winter Games, not only the para athletes but hundreds and thousands disabled people have been encouraged to explore new possibilities of life through sports.
"The Paralympic Games is not only a sports competition, but more importantly a symbol of humanity, which shows how a country cares for and helps the disabled," noted Yang Jinkui, head of the Paralympics Department of Beijing 2022.
The National Aquatics Center has been upgraded in various infrastructure areas, including parking, entrances and exits, elevators, ramps, toilets, dressing rooms, barrier-free signage systems, etc. In terms of catering, every batch of food for athletes has been tested and sampled for viruses and stimulants during food procurement, storage and retention. (Xinhua)