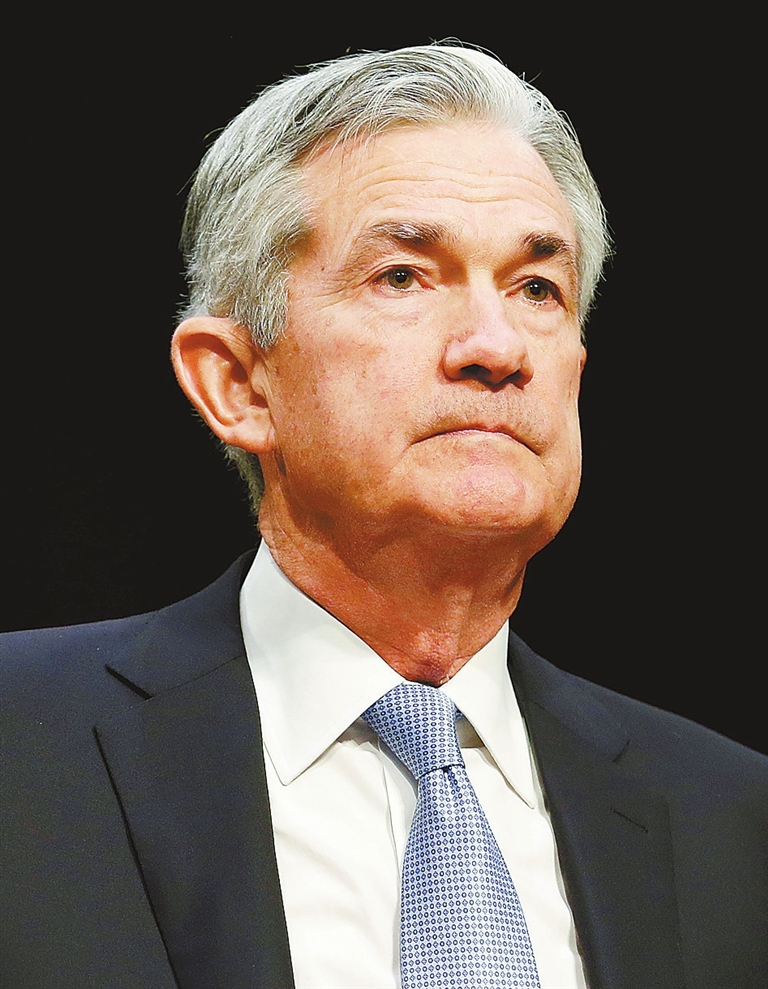 DURING his first term, Jerome Powell arguably became the most dovish chairman of the U.S. Federal Reserve in modern history, prioritizing full employment in an era when inflation seemed extinct. In his second semester, he may have to do the opposite: prioritize inflation at the risk of sacrificing work.
The pivot could be painful for both Powell and U.S. President Joe Biden, who appointed him in part on his dovish record, and reflects the substantial reordering of economic conditions in the United States in just the past year. Inflation, at 6.2 percent, is its highest in 31 years. While employment remains 4.2 million below its pre-pandemic peak, labor shortages are widespread and wage growth is accelerating. All that threatens the Fed's 2-percent inflation target.
Biden renominated Powell to serve a second term as the central bank's chairman Monday. The choice signals business as usual at the Fed over the next four years, as Wall Street and economists had largely expected Powell's renomination.
The decision is a victory for the Republican Fed chair whom former President Donald Trump elevated from Fed governor in 2017.
Powell was later confirmed in 2018 with his term as the chief central banker initially set to expire in February 2022. He must now be approved by the Senate Banking Committee before facing confirmation in the Senate.
The U.S. Federal Reserve chairman is selected from one of the seven members of the Board of Directors by the president, but they must also be approved by the Senate.
Each term is for four years and can be reappointed by the sitting president at the end of that time frame.
The chair's role is to push for maximum employment, moderate long-term interest rates, and stable prices.
Biden also elevated Fed Governor Lael Brainard to be the Fed's vice chair. Brainard has been on the Fed's Washington, D.C.-based Board of Governors since 2014 and long been cheered by Democrats for her stance on toughly regulating Wall Street's biggest banks. Until Biden's Monday announcement, Brainard had been seen as Powell's biggest competitor for the top Fed job.
During Powell's tenure as chief Fed official, Brainard's been the lone Democrat on the Fed's board and has spoken out about climate change's threats to financial stability, as well as the importance of letting the economy run hot to help the labor market's most disadvantaged workers.
Supporters see Powell as having guided the Fed toward an aggressive, all-hands-on-deck U.S. economic rescue during the devastating coronavirus outbreak, which cratered 22.3 million jobs and put the most Americans out of work since the Great Depression. Powell steered the Fed further and faster than it had ever gone before during a steep economic crisis, lending money to virtually all corners of the market.
Among the sweeping steps, the Fed slashed interest rates to zero at the onset of the pandemic and instituted a near unlimited bond-buying program to keep the system awash with credit. The Fed also created special lending programs that handed cash to state and local governments, municipalities, corporations and small businesses dotting Main Street.
"We can't just return to where we were before the pandemic, we need to build our economy back better," Biden said in a statement Monday. "If we want to continue to build on the economic success of this year, we need stability and independence at the Federal Reserve."
The renomination gives Powell a chance to finish what he started. Experts say the moves helped backstop the U.S. economy at a time of deep contraction, after the financial system shrank by a whopping annualized pace of 32.9 percent in the second three months of 2020. They also say his actions helped prevent the economy from enduring a simultaneous financial crisis.
"Inside the Federal Reserve, we understand that our decisions matter for American families and communities," Powell said in a Monday statement beside Biden.
"I strongly share that sense of mission, and I am committed to making those decisions with objectivity and integrity, based on the best available evidence, in the longstanding tradition of monetary policy independence."
Economists and lawmakers alike rallied for a second Powell term, especially as policymakers have already begun backing away from those extraordinary pandemic-induced policies. The Fed in November announced that it would starting slow down how many bonds it's buying each month by US$15 billion each month until those purchases eventually hit zero — a process known as taper that could gradually lift mortgage and refinance rates, as well as interest rates on other longer-term debt.
Biden's bet on Fed continuity comes at a time when the labor market is still healing even as consumer prices soar at their fastest pace since the 1990s — cornering the Fed between its twin mandate of stable prices and maximum employment.
Higher inflation poses a wrinkle for monetary policy and the goals that Biden might set out for his administration — as well as the next Fed chair.
Officials had warned of higher prices at the beginning of the year but claimed those pressures would subside once supply bottlenecks soothe and record demand balances back out as consumers come out of lockdowns.
Yet, supply chain troubles are nowhere near being solved, inflation hasn't yet proven to be transitory, and prices are also picking up on rents, homes, gasoline and groceries. Consumer prices soared in October by the most since 1990, while another gauge shows the fastest pace since the 1990s.
Persistently high inflation might also challenge the Fed's new mandate of prioritizing low unemployment — another one of Powell's key accomplishments that experts say the Biden administration has likely cheered thanks to its implications for reducing economic inequalities.
Biden said on the campaign trail that he'd like the central bank to focus on limiting racial economic gaps and make rate decisions by factoring in the Black unemployment rate, which is typically twice as high as White joblessness.
Officials haven't changed their tune on inflation, and forecasts show that policymakers broadly expect price pressures to settle down in 2022 and 2023. Yet, central bankers are now starting to debate whether to hike rates as soon as next year.
Powell said in an October appearance that he doesn't see the need to raise rates right now.
"I do think it's time to taper, and I don't think it's time to raise rates," Powell said at a virtual Bank for International Settlements-South African Reserve Bank conference. "It would be premature to do so at a time when we are far below the level of jobs we had in 2020."
Powell, the 68-year-old former lawyer and former investment banker, has been serving as the 16th chair of the Federal Reserve System since February 2018. He is the first Federal Reserve chairman who does not have a degree in economics and, according to The Washington Post, the richest since the 1940s.
He served as an assistant secretary and undersecretary of the Treasury Department under former President George H.W. Bush. In that role, he was responsible for policy on financial institutions, the Treasury debt market and related areas.
When he left the government, Powell joined the Carlyle Group, a private-equity firm, where he worked from 1997 through 2005 before eventually starting his own business. After that, he worked for the Bipartisan Policy Center, a centrist think-tank where he focused on federal and state fiscal issues. He began to serve on the Fed's Board of Governors in 2012.
In his capacity as chairman of the world's most powerful central bank, Powell is tasked with trying to ensure that, once the virus outbreak subsides, the American economy can return to pre-crisis levels.
Since the crisis began, the Fed slashed interest rates to zero during two emergency meetings; relaunched crisis-era programs to support lending of all entities; and relaunched its program to purchase massive quantities of bonds. (SD-Agencies)