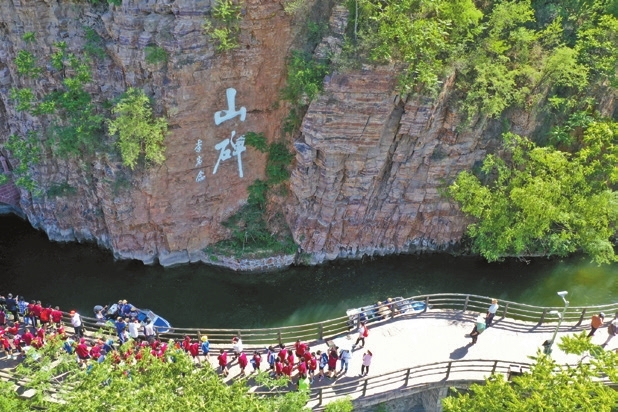 MANY rural villages in Shanxi are often referred to as "hidden gems" by those in the know, for their cultural wealth and natural wonders. These are necessary elements in spreading the word and developing them into tourist attractions to help boost local incomes.
Experts from the Shanxi Cultural Heritage Administration are helping five villages in Shanxi protect and preserve their cultural legacies and develop tourism.
One such village is Baiyangpo in the heart of the Taihang Mountains. The village can be found in the east of Pingshan County near the source of the renowned Red Flag Canal.
The canal was dug on precipitous rock surfaces and sheer cliffs in the Taihang Mountains by local people in the early 1960s as a major irrigation project. As a large part of the canal consists of waterways on cliffs and suspended viaducts, it enjoys a reputation as being a "man-made river in the sky" and "modern Great Wall." The project is viewed as a symbol of the enterprising spirit of the local builders and residents.
In 2020, the provincial cultural heritage administration's experts proposed an overall tourism development plan for the village of Baiyangpo, aiming to build it into a "museum of farming culture and ecology."
According to the plan, the canal, the farmlands and every farmhouse in the village would be integrated into this huge museum. Every resident was then regarded as an operator and guide of the museum and an inheritor of the local farming culture that has thrived for hundreds of years.
Shanxi Archaeological Research Institute, a branch of the cultural heritage administration, has helped to promote the tourism attractions and produce of the village of Doukou in Pingshun County in its museums. Driven by its booming tourism industry and sales of produce, Doukou, once a poverty-stricken village, has seen steady growth in residents' income over the past five years. Its per capita net income for its residents was 10,721 yuan (US$1,678) last year.
The Shanxi Federation of Literary and Art Circles is another organization offering active assistance for rural tourism development.
It has organized cultural shows and held other activities in a number of Shanxi villages to help promote rural tourism.
(China Daily)