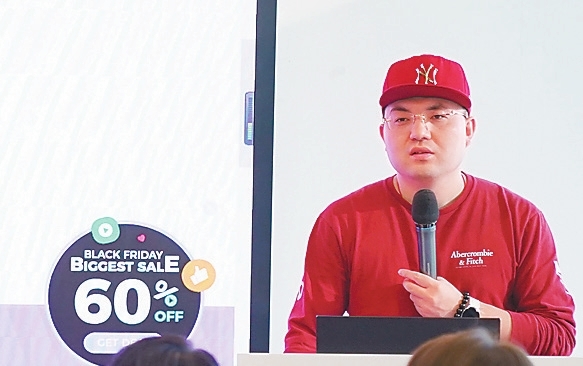 Chen Xiaochun
654789759@qq.com
WEI BO, founder and chairman of Laihua (Shenzhen Qianhai Hand-painted Technology and Culture Co. Ltd.), a leading creative platform for presentation and animation video creation in China and Qianhai's first unicorn company, told a group of reporters Saturday that he hoped Laihua would one day be on a par with or even exceed Adobe.
More than 20 reporters from across the country joined a tour to Qianhai, which was themed "Jointly Building the Greater Bay Area," on Saturday and Sunday to check out the latest development of the modern service industry cooperation zone.
Laihua, registered in Qianhai in 2015, once had to move its daily operations outside the cooperation zone, which was under infrastructure construction that time. The company underwent rapid development after relocating back to Qianhai in 2019. It is Qianhai's first unicorn company with valuation exceeding 7 billion yuan (US$1.09 billion).
Though the pandemic struck many companies a hard blow, it provided Laihua a great opportunity. The company has experienced a boom and gained many users worldwide as more people have to work remotely and use the platform to make their presentations better.
Laihua is currently an official strategic partner of Xinhua News Agency, People's Daily and the Ministry of Culture and Tourism of the People's Republic of China, among others.
Being registered and located in Qianhai, Laihua has benefited from Qianhai authority's policies and support.
"I felt very grateful to Qianhai. The Qianhai authority helped us find financing, which basically saved the company during the pandemic. It also gave us a subsidy of 3 million yuan, provided us with more than 20 talent apartments and rent subsidies, and helped us successfully resume work and production during the epidemic by providing pandemic prevention materials," Wei said.
The company has over 260 employees. "Among them, around 40 are Hong Kong youths, and 10 are young people from Macao and Taiwan. Hong Kong is home to not only many finance talents but also design talents. Hong Kong has a very strong design industry. We have been recruiting Hong Kong designers for a long time, around six years now," Wei added.
According to Wei, many Hong Kong designers are willing to come and develop their career in Shenzhen. "For young Hong Kong people, the most important thing is to give full play to their strengths, one of which is internationalization. They enjoy the advantage in blending traditional Chinese with European and American cultures and creating works in line with both Chinese and European and American aesthetics."
Wei, who lives and works in Qianhai, has witnessed the area's tremendous changes.
"Qianhai's biggest change is transportation, which became very convenient. I live in Qianhai so I experienced it personally. Qianhai has developed rapidly over the last two years. For example, half a year ago, there was probably a vacant lot behind us; but half a year later, a tall building sprang up. Qianhai enjoys a nice environment with sea views and parks. I feel happy to live here," Wei said.