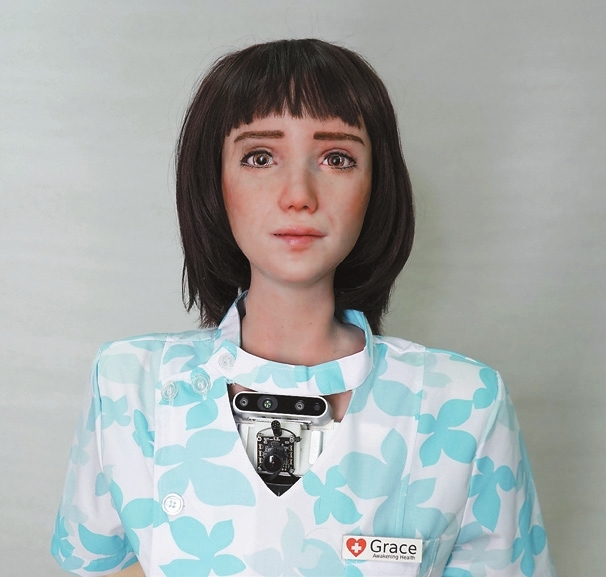 Hospital staff members around the world have faced overwhelming workloads during the COVID-19 pandemic. Could humanoid robots help ease that burden? A Hong Kong-based robotics company believes their latest creation, Grace, could help transform the health care industry as a doctor's assistant, interfacing directly with patients.
Equipped with cameras and sensors as well as a nurse's uniform, Grace can maintain eye contact, recognize faces, understand speech, hold conversations and diagnose patients.
"I can brighten patients' days with social stimulation. I can also do talk therapy, take bio readings and help health care providers," said Grace in a demonstration at Hanson Robotics' Hong Kong workshop, standing alongside her older "sister" Sophia who was famously given Saudi Arabian citizenship in 2016.
Hanson Robotics founder David Hanson says Grace is able to simulate the action of more than 48 facial muscles thanks to a proprietary nanotech skin called Frubber. "A human-like appearance facilitates trust and natural engagement because we are wired for human face-to-face interactions," he adds.
Hanson Robotics envisions Grace as a way to support overloaded medical staff as well as elderly patients and those isolated by COVID-19. Capable of taking patients' pulses and temperatures with an integrated thermal camera, Grace is also designed to mimic the kind of interaction you'd get from a human care provider, and speaks English, Mandarin and Cantonese. Her behavior can also be tweaked according to her context, simulating either Asian or Western customs as needed.
The company says it will begin mass-producing its robots, including both Grace and Sophia, by the end of this year. Grace will be fully deployed next year in medical facilities in China, Japan and South Korea. Though the cost of a single humanoid robot is currently close to US$100,000, that price is expected to come down as the company manufactures them in larger quantities.
Social robots are already in common use in Japan, and more people are considering their value as companions for lonely seniors. (SD-Agencies)