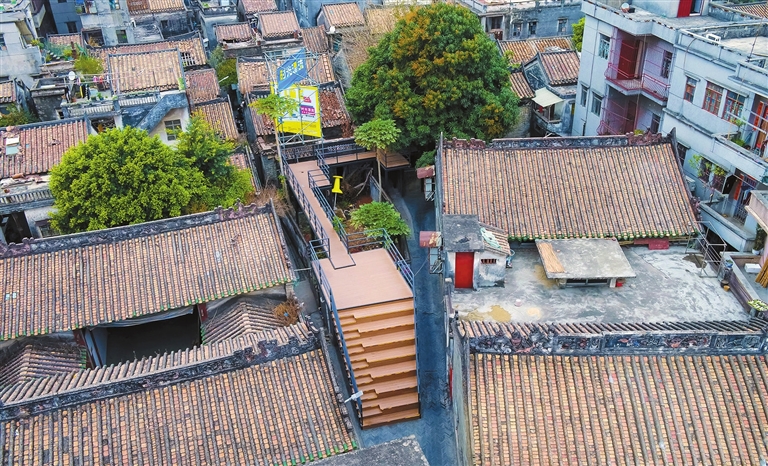 THE urban revitalization project of the historic Shajing Ancient Fair in Bao'an District has received the Award for New Design in Heritage Contexts and Special Recognition for Sustainable Development in this year's UNESCO Asia-Pacific Awards for Cultural Heritage Conservation, Shenzhen Evening News reported Thursday.
Shenzhen architects Zhang Yuxing and Han Jing from ARCity Office are in charge of the project.
This marked the first time that a Shenzhen project was honored at the UNESCO Asia-Pacific Awards for Cultural Heritage Conservation since its inception in 2000. It was also the first time that Chinese architects had won in the award's two main categories.
Shajing Ancient Fair is Shenzhen's largest existing historical block, covering a 230,000-square-meter area. It includes an ancient but polluted river, a stone tower with over a history of over 1,000 years, hundreds of old houses, dozens of ancestral halls, ancient wells and historical sites.
Entrusted by the Shajing Subdistrict Office and China Resources Land Group, ARCity Office initiated the urban revitalization project for Shajing Ancient Fair in September 2019, carrying out a river section demonstration renovation and landscape transformation, designing new public spaces, and planning an on-site public art exhibition.
In addition, representative field sites such as ruins, old houses and stages were selected along Longjin River. An integrated design method was adopted to enhance the whole area's appeal based on maintaining the sites' characteristics, thus revitalizing the ancient fair and local cultural heritage.
The awards' jury applauded the Shajing Ancient Fair revitalization project as it skillfully employs an "urban acupuncture" approach to insert minimal design interventions and programming at key locations to rejuvenate a traditional commercial settlement dating back to the mid-Qing Dynasty.
The jury further commented, "Restoring the riverfront and repurposing existing structures and public spaces to create new facilities in a low-cost, low-tech way have strengthened community interactions while respecting the ancient urban morphology. Along with the revival of local life, the project demonstrates the role of urban innovation in sustaining historic urban landscapes in a holistic manner."
On Nov. 13, the Shajing Ancient Fair revitalization project also stood out from 4,742 entries around the world and won the Asia Pacific silver award of the sixth Holcim Awards.  (Zhang Yu)