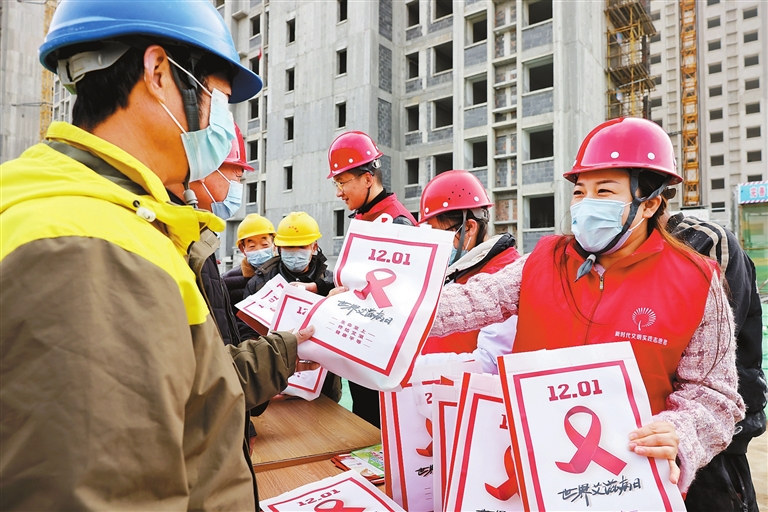 WHILE China's HIV/AIDS containment remains stable though challenging, officials and experts have called for intensified efforts to prevent transmission of HIV/AIDS, including raising wider awareness and resorting to early intervention methods for high-risk groups.
The country registered over 1.05 million people living with HIV and 351,000 cumulative deaths by the end of 2020, according to an article published on China CDC Weekly, an academic platform established by the Chinese Center for Disease Control and Prevention.
As the proportion of HIV transmission by injection drug users dropped from 25.2 percent in 2009 to less than 2.5 percent last year, transmissions through heterosexual and homosexual activities both increased.
Men who have sex with men are at the highest risk of contracting the virus in China, and innovative interventions are needed to boost their awareness of using HIV medications and receiving prompt tests, the article said.
"Integrating social media with the distribution of self-test kits also holds promise to increase HIV testing coverage and case identification," said the article, which was written by He Na, an epidemiology professor at Fudan University's School of Public Health in Shanghai.
The article added that adults aged above 50 in China are at growing risk of HIV infection.
Data released by the China CDC in July showed that the age group accounted for 44 percent of newly reported HIV infections in 2020, up from 22 percent in 2011.
The trend underscores the need for "more HIV intervention studies that are psychologically tailored for older adults," according to the article.
It also said that promoting safe sex and awareness of HIV among young people remains a major challenge.
Data previously released by health authorities showed that China reports around 3,000 new HIV infections among young students each year, with the average age becoming younger over the years.
The article said that anonymous, urine-based HIV testing via vending machines should be "a power complement to current interventions that target at-risk students and promote HIV testing."
Wu Zunyou, chief epidemiologist at the China CDC, said that the annual number of new HIV cases in China has stabilized, with some key groups registering a downward trend.
"Even though improvements in HIV treatment have enabled us to treat the disease like a chronic disease, we should realize that prevention is always more important than therapies," he said during a recent event.
Premier Li Keqiang also called for focusing on prevention of HIV/AIDS while improving relevant treatment ahead of World AIDS Day, which fell on last Wednesday.
In an instruction issued on last Tuesday, Li called for stepping up treatment capacity, assistance and humanitarian care for infected people.
This year marked the 10th anniversary of the founding of Linfen Red Ribbon School in Shanxi Province, the first school in China for children living with HIV.
Peng Liyuan, the wife of President Xi Jinping and the World Health Organization's goodwill ambassador for tuberculosis and HIV/AIDS, said in a video message sent to the students of the school Wednesday that it is uplifting to see that more people are now committed to upgrading the school.
She encouraged the students to continue to share love and enjoy a happy childhood.
(China Daily)