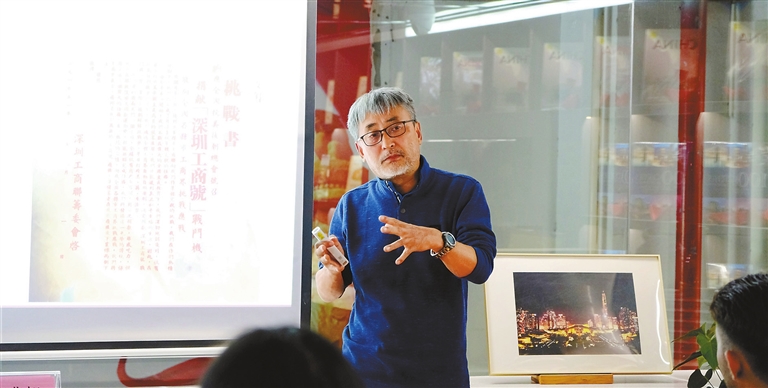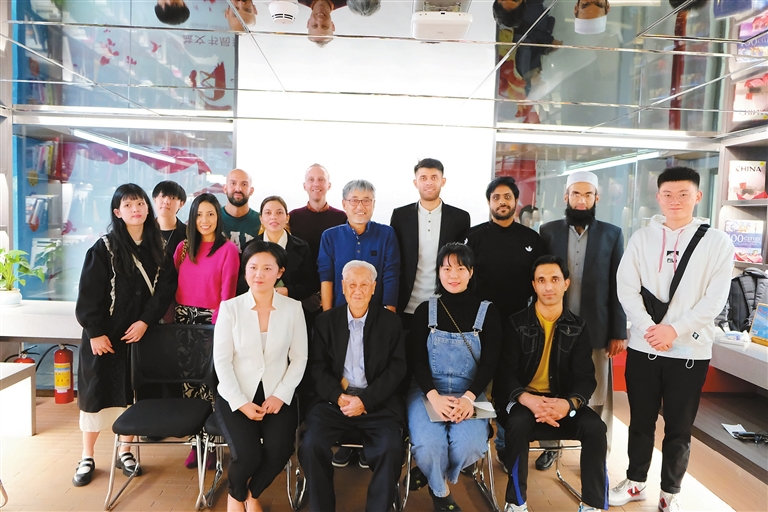 Lin Lin
linlin_szdaily@126.com
LOCAL history and nature researcher Nan Zhaoxu took his audience on a panoramic tour around Shenzhen through a lecture presented Sunday afternoon at Eon Books in Shenzhen Book City CBD Store in Futian District.
Titled "Unveil the Eight Ultimate Secrets of Shenzhen," Nan's lecture touched upon multiple topics including the city's geography, climate, ecology, and history as well as its economic and social development.
Nan has been in Shenzhen for 32 years and is a keen advocate of local care, a concept that calls for people to pay attention to and cherish the community and city they live in.
"During my stay in Shenzhen, I've been doing two things," Nan said. "First, I have read all the old, historical files about Shenzhen. Second, I've been exploring the city's coastlines, forests, mountains and rivers through hiking."
Through his exploration into literature and field research, Nan has published multiple books and produced several documentaries about Shenzhen's history and nature.
In the lecture, Nan showed to his audience Shenzhen's location on Earth to explain how a subtropical monsoon climate, which means both sufficient rainfall and sunlight, and diversified landscapes, have endowed the city with rich biodiversity. According to Nan, Shenzhen boasts a total of around 20,000 species, including over 7,000 species of insects, more than 2,600 species of angiosperms, more than 950 marine fishes, and other plants and animals.
In Shenzhen, Nan has spotted large mammals such as a 10.78-meter-long sperm whale, and he also found tiny psocids that often show up in hundreds around tree trunks with a diameter of around 20 centimeters. He found a 600-year-old Chinese banyan as well as mayflies that can live at most for just three days.
The location of Shenzhen on Earth decides its natural environment, while being adjacent to Hong Kong has made it the first special economic zone in China, Nan said. The Shenzhen Special Economic Zone was established 41 years ago, but the city has a much longer history. According to Nan, humankind started to inhabit in this area more than 7,000 years ago, county-level governments were set up here 1,700 years ago, and over 300 years ago, Hakka people began to immigrate here.
"In many media reports, Shenzhen is described as a small fishing village growing into a metropolis, but that's not the truth," Nan said. Back in 1949, Shenzhen already had 26 business associations, according to a historical document. During the War to Resist U.S. Aggression and Aid Korea, over 700 merchants in Shenzhen jointly donated three jet fighters to support the Chinese army in 1951.
"Shenzhen was never a small fishing village. It is actually a 'fu er dai' ("富二代," a catchphrase that refers to people from wealthy families)," Nan said jokingly.
In 1980, Shenzhen had a population of around 310,000. Over the past 41 years since the establishment of the special economic zone, its population has surged to nearly 17.56 million. "It is like all residents in Australia immigrating to a land with an area only 1/3,800 of the country," Nan said.
Human activities in Shenzhen over the past 1,700 years, as well as the rapid economic and social development of Shenzhen over the past four decades, had once degraded the city's ecosystem and its natural environment, but the joint efforts of local governments, non-governmental organizations and individuals have contributed greatly to the city's ecological restoration.
Between 1950 and 2010, six species had disappeared from Shenzhen, including South China tigers, red foxes, pangolins, otters, red muntjacs and clouded leopards. But last year, otters and red muntjacs were once again spotted in the city, according to Nan.
In addition to biodiversity, the city's air quality has also been substantially improved. From 1960 to 1970, Shenzhen recorded only three days of smog in total. In 2004, the city went through 197 days without clean air, the highest number recorded over the past years. Last year, the number dropped again to only three days of smog throughout the year.
"Innovation and technology are two major engines behind the city's development over the past years," Nan said. "In the future, however, the power of nature will help Shenzhen to become an even more harmonious, tolerant and beautiful city."
The lecture is part of a series that runs under the title "The World Reads With Shenzhen," which invites well-known scholars and experts to share books about Shenzhen with expats.