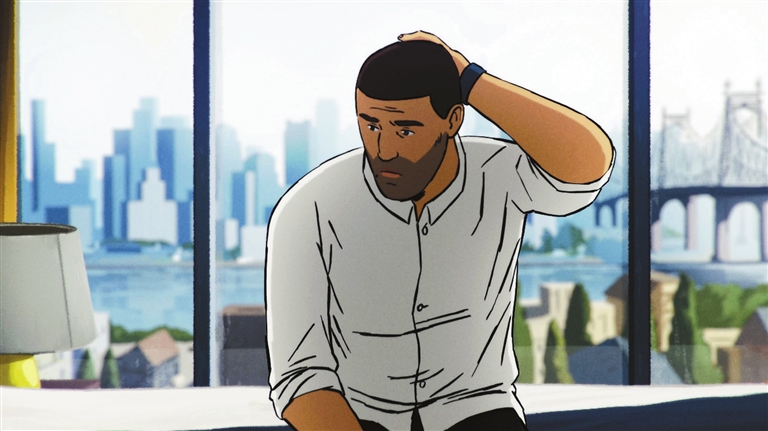 Animated in a style that is visually sparse but emotionally vibrant, "Flee" is written and directed by filmmaker Jonas Poher Rasmussen. As a teen growing up in Copenhagen, Denmark, Rasmussen became friends with a similarly aged Afghan refugee named Amin. Amin had fled Afghanistan after the Mujahideen grew more powerful during the First Afghan Civil War of the 1980s and 1990s, and arrived in Copenhagen alone. The two became friends, staying in touch as Rasmussen pursued filmmaking and as Amin pursued his doctoral degree. When they reconnect for the documentary "Flee," it's as adults ready to look back upon the past with a mixture of honesty, wistfulness, and resignation (from Amin) and curiosity and patience (Rasmussen). "This is a true story," an intertitle states at the beginning.
The film's setup is straightforward, with Rasmussen guiding Amin forward in conversation, but the approach is never simplistic. Scraps of memories are sometimes all we have of the people we loved and lost, and Amin compiles them together to speak about his deep bond with his family and the trauma of being stateless. Each of his accounts starts the same way, with an animated version of Amin — brown-skinned, close-shaved, with a beard, a gold chain, and a world-weary look — laying down on a couch, staring ahead, and gazing directly toward us. That perspective of Amin looking up and us looking down creates a balance in which we're an active participant, and as Amin slides into memory and transforms into a younger version of himself, we go too.
Back to Afghanistan, where Amin's happy childhood (flying kites with one of his brothers, spending time in the kitchen with his mother) is upended by civil war and by his father's disappearance after being taken by the Mujahideen. The outlines of grey collapsing buildings and beige running civilians shift and melt while resistance fighters appear as solidly black, scratchily-shaded-in forms, both in contrast to Amin's brightly dressed relatives and cozily decorated family home. To Russia, where Amin spent dreary, tedious years as a teenager: The color palette desaturated, the movement in these characters diminished, their facial expressions dampened. Back to present-day Copenhagen, where Amin's boyfriend Kasper hits the walls and boundaries Amin has built around himself. And, slowly, to another version of Amin's past that Rasmussen, through gently guiding questions, steadily unravels. "I just need to get one thing straight," Rasmussen asks, and the pause he takes in between that statement and his following query is a whole world of poised possibility.
Where "Flee" then goes reveals a number of bleak truths about the gap between the "first" and "third" worlds and about the desperate measures people will risk for the chance at a "better" life. Refreshingly, "Flee" also makes space to consider what "better" means and by whose standards we assign that designation.
When "Flee" slips from animation to live action, it's Rasmussen's reminder of the reality of this story.
(SD-Agencies)