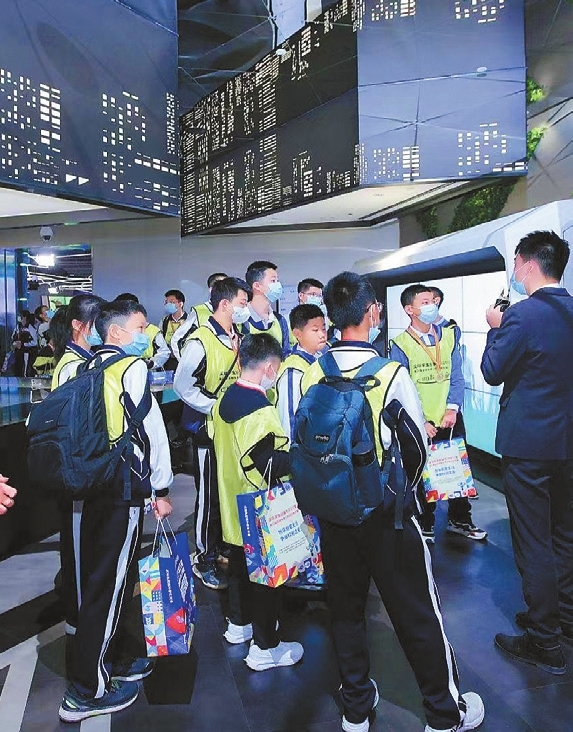 The main competition and awards for the 37th Shenzhen Junior Science and Technology Innovation Contest was held on Saturday and Sunday at the Tencent headquarters building in Nanshan District.
The contest, a key project of the 2021 Shenzhen Students Makers Festival, received 809 inventions, 385 science research papers, 570 sci-fi-themed paintings, 158 science and technology experiment reports, and 146 science teaching plans from students and teachers citywide. More than 12,000 students from 446 schools entered the first round of the city-level contest.
The makers festival, launched on October 30, included the tryouts for the 2022 Guangdong Province Innovation and Intelligent Manufacturing Project and for the RoboGenius design competition, Shenzhen Teachers Innovation Marathon, the preliminary rounds of the 3D programming competition of the fifth National Junior AI Challenge, and the 2021 Shenzhen Creative Programming Competition.
During this year's festival, the Shenzhen Education Science Research Institute, an official agency attached to the Shenzhen Municipal Education Bureau, signed a strategic partnership agreement with Tencent that expresses their intent to work together to popularize AI and computer-related knowhow and proficiency among local students.
Student representatives, chosen out of more than 300 "Future Science Stars" in Shenzhen, were invited to tour the Tencent headquarters over the weekend.
The city's education authorities also announced during the event that a trial of a choice-based credit system has started this year in science education in Shenzhen primary and middle schools.
(Li Dan)