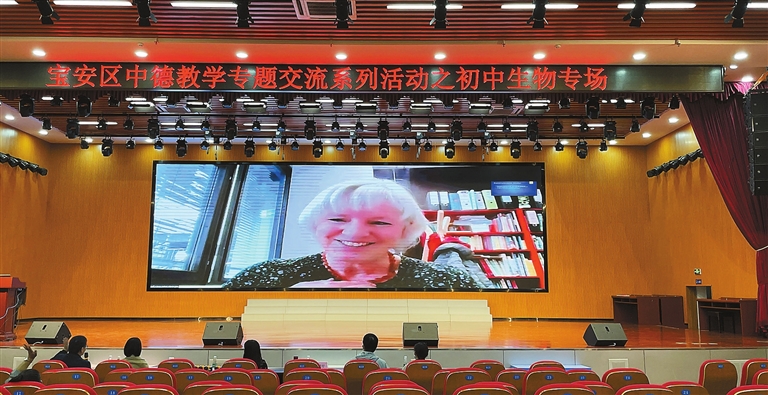 Yu Yuanfan
aimee3031@126.com
A series of online seminars for teachers in Shenzhen's Bao'an District and Germany's Heidelberg were held from November 12 to December 13.
Featuring the four subjects of music, physics, chemistry and biology, the 10 seminars offered the teachers a precious opportunity to share ideas on teaching amid difficulties in traveling caused by the COVID-19.
They also marked another collaboration between Bao'an District and Heidelberg after the Sino-Germany international educational exchange week in 2019 and a series of reading-themed activities earlier this year.
The four seminars on music classes invited professor Dr. Juergen Oberschmidt, president of the German Music Teacher Association and professor at the Heidelberg University of Education, to share his views on topics including music and sports, singing and musical performances, chorus teaching, and student composing.
In addition to showing the Chinese teachers ample examples of music classes in German classrooms, professor Oberschmidt also answered their questions regarding challenges they met in the teaching process.
Andreas Keck, speaker for the seminars on physics classes, had visited several schools in Bao'an District and is therefore familiar with both German and Chinese classroom teaching styles. He stressed the importance of lifelong learning for teachers, and introduced what the basic education system and physics classes are like in Germany's Baden-Wuerttemberg State.
The first seminar on chemistry classes was hosted by Ursula Kuegler from the Mannheim Teachers' Development Center.
Following the theme of "quality classes," she shared with the Chinese teachers her insights from the three aspects of philosophies and goals of teaching, classroom teaching and teachers' development, and took them on a virtual tour to a chemistry lab in a German junior high school.
The second seminar featured a chemistry class given by Luo Liushan from Xin'an Middle School (Group) Foreign Language School and discussions on the similarities and differences on teaching schedules and practices between China and Germany. The seminars on biology classes were given by Dr. Lissy Jaekel from Heidelberg University of Education. Through vivid examples, she introduced how biology teachers in Germany design teaching schedules and organize outdoor teaching sessions, and highlighted the significant role of school campuses and gardens for primary and middle school outdoor teaching.
The seminars were hosted by the Education Bureau of Bao'an District, organized by the Bao'an Institute of Education Sciences, Shenzhen Bao'an Middle School (Group), Xixiang Middle School, Bao'an No. 1 Foreign Language School, Xiaode School and supported by the F+U Education Group, Heidelberg University of Education and the Mannheim Teachers' Development Center.