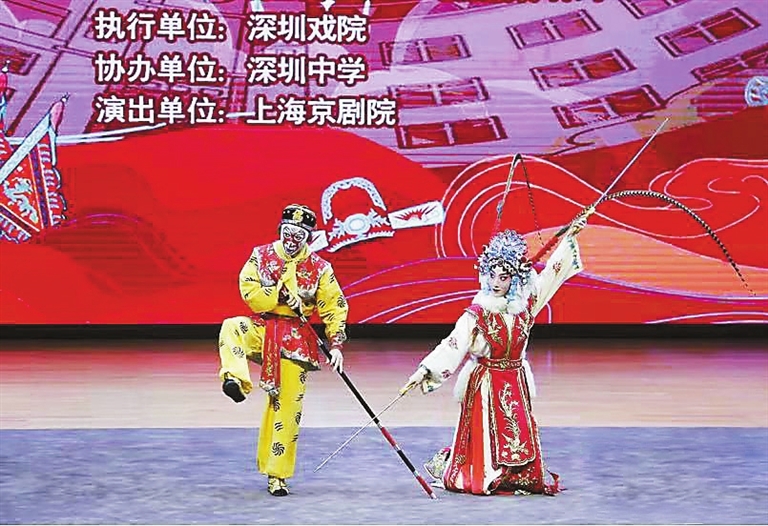 The 2021 Operas Entering Campuses , a landmark opera program organized by the Shenzhen Theater, has once again proved to be a success this year as traditional operas of various genres made a splash among students in colleges, primary and middle schools.
The program is jointly hosted by the Publicity Department of Shenzhen Municipal Committee of the CPC, Culture, Radio, Television, Tourism and Sports Bureau of Shenzhen Municipality and Shenzhen Education Bureau.
The organizers have invited renowned opera actors and actresses to perform, educate and demonstrate selected classic opera scenes from Peking opera, Kun opera, Henan opera, Cantonese opera and Huangmei opera to create an immersive environment for students to learn age-old performing arts.
According to the organizers, this year's program featured lectures on opera history and costume exhibition, opera makeup experience, opera performance, and opera theater classes, through which students could gain a deep understanding of operas and therefore develop strong interests in traditional cultures of our nation.
At Shenzhen No.3 Vocational School of Technology, Jiang Wenrui, a national class-A actress and a recipient of the Plum Blossom Award for Chinese Drama, gave a lecture on Cantonese opera appreciation and talked about the uniqueness of Cantonese opera. Nearly 2,600 students, including 800 in person, listened to the lecture.
During the lecture, the Guangdong Cantonese Opera Theater presented performances of the five major roles of "sheng (male role), dan (female role), jing (painted face), mo (middle-aged male role) and chou (comic role)" to the teachers and students, vividly demonstrating the characteristics of the different roles. Excerpts of Cantonese operas "Double Suicide From the Flower Princess" and "Mu Guiying's Marriage Proposal" made great impressions on the audience.
The modern Peking opera "A New Era," a production out of Shanghai, gained great popularity at the Southern University of Science and Technology and Shenzhen Middle School. A student surnamed Su said, "It was quite a surprise to see opera performers come to our school and share with us the stories and cultures behind the opera. I think it's very educational."
Shenzhen is actively exploring new ways to utilize new media technologies to promote traditional Chinese culture. For example, Shenzhen Theater livestreamed all the performances in schools, and garnered 420,000 views, according to a report by dutenews.com.
Zhou Hao, general manager of Shenzhen Theater, said that the theater also holds lectures about operas that are free to the public, in a bid to encourage citizens to learn more about operas and eventually fall in love with operas. (Yang Mei)