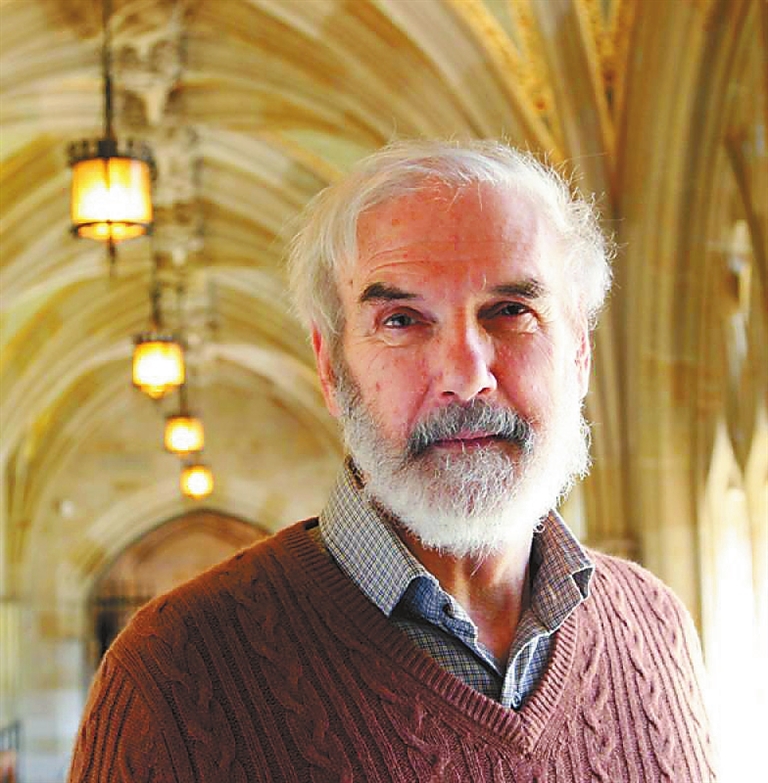 FOR the past week, China's literary circle has been mourning the death of Jonathan D. Spence, a British-born historian who became a prominent sinologist and writer of bestseller "The Search for Modern China."
Spence, who retired as a professor from Yale in 2008, died Dec. 26 at his home in West Haven, Connecticut, the United States. His wife and fellow Yale professor, Annping Chin, said the cause was complications from Parkinson's disease. He was best known in China by his Chinese name Shi Jing-qian, a name given after the historian and writer Sima Qian from the Han Dynasty (206 B.C.-A.D. 220).
The recipient of a MacArthur fellowship, a Los Angeles Times book prize and numerous other honors, Spence wrote more than a dozen books on China, along with reviews, essays and lectures. He was best known for "The Search for Modern China," an 870-page publication that began in the 17th century, at the peak of the Ming Dynasty (1368-1644), and continued through the 1990s.
As suggested by the book's title, Spence approached China as if writing a detective story, deciphering for Western readers one of the world's largest, most populous and complex countries. Drawing upon scores of previous books and original papers, he documented China's history of extreme upheavals and lasting traditions.
Spence's other works included a short biography of Mao Zedong for the Penguin Lives series; "The Chan's Great Continent," which looked into how Westerners perceived China; and "The Memory Palace of Matteo Ricci," about one of the first Jesuit missionaries to China. A 1996 book, "The Chinese Century: A Photographic History," was co-authored by Spence and Chin.
Survivors include two sons from his first marriage, to Helen Alexander, and two stepchildren.
Born in Surrey, England in 1936, Spence grew up in a family of book lovers: His father was an editor, and his mother a reader of French literature. Spence studied British history at Cambridge University. In 1959, after winning a scholarship, he went to Yale University on an exchange program and changed his direction to Chinese history.
At the introduction of his supervisor at Yale, Mary C. Wright, Spence went to Canberra to work with Chinese historian Fang Chaoying for his doctoral dissertation on Cao Yin, the grandfather of Cao Xueqin, the author of "A Dream of Red Mansions," and Kangxi, the fourth emperor of the Qing Dynasty (1644-1911), during whose reign Cao's family thrived.
The dissertation not only won Spence the John Addison Porter Prize and a teaching position at Yale, but also nurtured his strong interest in Kangxi. In 1974, Spence published his first book, "Emperor of China: Self-Portrait of K'ang-hsi," narrating the history about the emperor from a first-person angle. The book was well-received in the United States.
Since 1974, Spence had completed 14 works about Chinese history, including "The Search for Modern China," "To Change China: Western Advisers in China," "The Memory Palace of Matteo Ricci," "Treason by the Book" and "The Death of Woman Wang."
In the preface to the Chinese translation set of Spence's books, the chief editors Cheng Pei-kai and Yan Xiu write that "The Search for Modern China" best displays his rich knowledge and deep understanding of Chinese history and his fluent writing style.
"Unbiased and objective, his writing was full of his sympathy with and his understanding of Chinese history, so that Western readers can understand that China is a real place, and that even if they cannot identify themselves with the development of Chinese history, they can see the historical figures who lived and struggled in it. In certain dark historical periods, these people with blood, flesh and feelings tried to pursue a silver lining to the unknown future."
Cheng, professor and director of the Chinese Civilization Center of City University of Hong Kong, was also one of Spence's first Ph.D. students at Yale.
The book became a bestseller in Europe and the U.S. What's more, since 1990, it has become a textbook of Chinese history at Western universities, influencing generations of college students and scholars.
Translated into French, German, Italian, Chinese, Korean and so on, Spence's books provide vivid historical stories about China that can be easily followed by readers around the world.
In 1974, Spence paid his first visit to China with 14 other colleagues from Yale. They toured Beijing, Tianjin, Shanghai and Guangzhou.
(SD-Agencies)