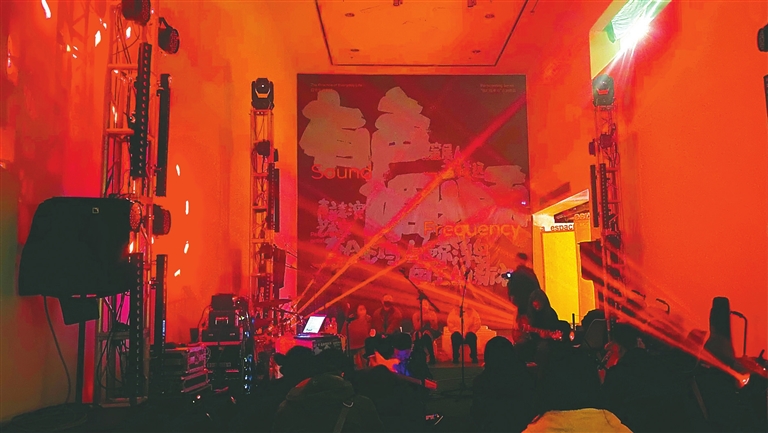 Cao Zhen
caozhen0806@126.com
LAST Sunday's cold drizzle didn't dampen a live music show at OCT Art & Design Gallery in Nanshan District.
The performance, part of the gallery's "Sound Frequency" project, featured experimental and rock music by musician Li Jianhong and the Cetus and King's Neo Outfit bands who incorporated field recordings into their live gig.
In late November when the "Sound Frequency" project was started, the gallery received a total of 54 field recordings submitted by people from all walks of life, according to Meng Xiangyuan, curator of the project. The sounds recorded include students' talks in a dorm, conversations between a director and audience members at a screening event, computer typing sounds, construction site noises, vendors' hawking, lion dance drumming sounds and drilling sounds, to name a few, showing rich messages and moods.
Five more artists, Liu Qingyuan, Liu Xin, Shen Shaomin, Wang Yezi and Yao Mingfeng, will also do art with the field recordings. Their works, together with Sunday's music show recordings, will be exhibited early next year at the gallery, which has long been focusing on experimental and interdisciplinary practices.
The "Sound Frequency" project aims to expand the way that viewers engage with art, either through performance, installation, field recordings, or something in between, because sound can easily affect people's emotions without any thought or explanation.
The artists and musicians are also trying to explore sound in its pure state, simultaneously bridging barriers between sound, space, cities and individuals in the contemporary sense, and investigate the social implications of certain sounds for trying to solve some social problems.
The project is part of OCT Art & Design Gallery's longtime "The Practice of Everyday Life" program which is inspired by French scholar Michel de Certeau's book of the same name. The book examines the ways in which people individualize mass culture, altering things in order to make them their own. Past events in the gallery's program included workshops of dancing, meditation and exhibition curating by the public.