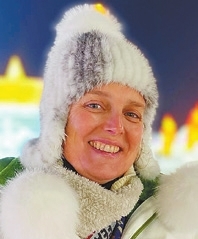 France, Housewife
2021 was a busy and intense year of challenges! After my first full year in Shenzhen, I became the president of the French association "Shenzhen Bienvenue." Then, thanks to participating to Chinese lessons organized by the Nanshan International Cultural Exchange & Service Center (NSIC), I decided to pass the HSK 2 exam (not a high level, but challenging enough for me) and I got it!
This year, I also met a lot of people, and some became good friends! I visited Sichuan Province and right now as I'm writing these words, I'm in Harbin and just finished skiing at Yabuli! China is so varied.
I have also participated in the Expats Eye Shenzhen Photo Contest and I won a finalist award. I'm also happy to have developed my love of art by discovering recycled plastic sculptures, so I have created earrings. As you can see, this year have been really filled of accomplishments! I hope to continue to meet more people next year and to find new challenges to achieve!