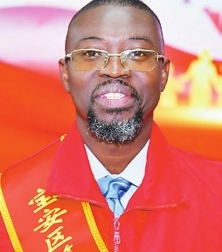 Ghana, President of the Ghanaian Community in Shenzhen and a volunteer
The bitter experiences and challenges brought to the world by the COVID pandemic, and its subsequent variants are the greatest lessons the human race has ever learned. Talking about loss as a result of the second year of the pandemic, the visa policies actually caused separation among some of my friends. In all this, I'm grateful for the life of my family, loved ones and friends who are witnessing the end of this year.
Talking about my expectations for 2022, I believe that peaceful collaborations among world powers to continuously research and improve vaccines would have a last solution to COVID and its variants. In 2022, as the Greater Bay Area vision is going to create more opportunities for China and the world, I hope to enjoy a piece of it by having the opportunity to promote and strengthen the already cordial relationship between Ghana and China.