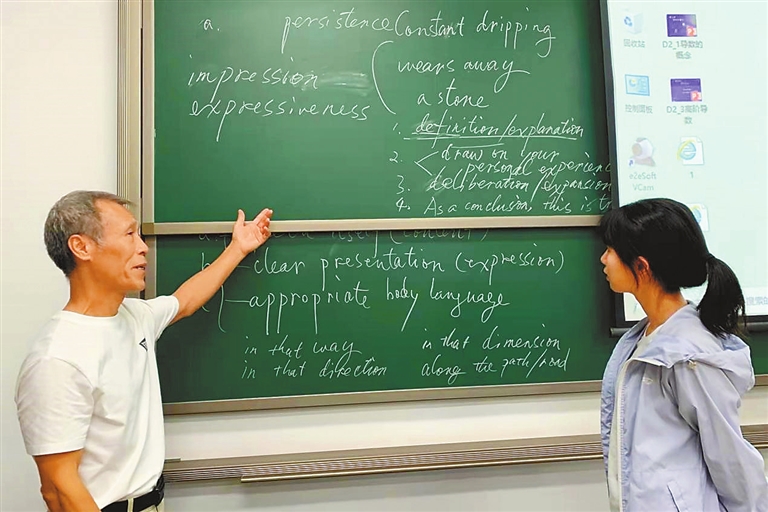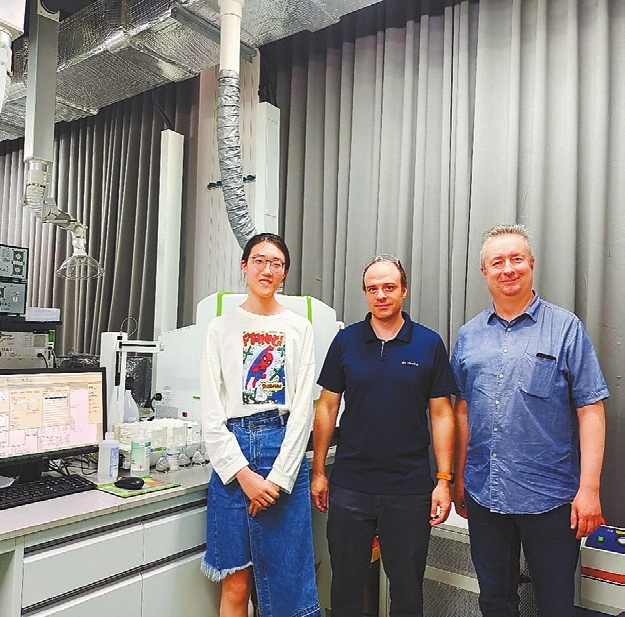 ON Oct. 15, two teams from SMBU won gold medals of the 7th China International College Students' "Internet+" Innovation and Entrepreneurship Competition, reaching a record high for the school.
On Oct. 18, Wu Mingxi, a master student, published her second research paper in an international journal. In April during Wu's undergraduate study, her co-authored article was selected as the cover of the same journal.
On Oct. 26, Zhang Jiaxian, a student of the Faculty of Russian Language and Literature, was awarded a merit prize in a Russian interpretation group at the 14th "Yongwang Cup" Multilingual National Interpretation Competition.
On Nov. 7, Zhang Zhiwei and Zhang Xiaofen won the second and third prizes, respectively, at the Guangdong Province division of the 2021 National English Speech Contest for College Students and the "FLTRP Cup" English Public Speaking Contest (Guangdong Region).
On Nov. 17, a total of 16 students won prizes at a provincial contest of the 13th Chinese Mathematics Competition 2021, with five of them being first-prize winners, seven getting second prizes and four being awarded third prizes.
On Dec. 17, an SMBU social practice team focusing on "Honoring the Memory of Heroes and Models and Handing Sino-Russian Friendship Down From Generation to Generation" was awarded as an excellent team in the 2021 National "Triple Services for Rural Areas" for College Student Volunteers during the Summer Holiday.
On Dec. 19, SMBU ranked fifth among 31 participant schools at the 2021 "Nanhu University Cup" College Students Chess Online Tournament. Bai Xuhui placed eighth among male players having Chinese Chess Association (CCA) secondary or higher titles and Peng Zijian reached seventh place among men with the primary and no CCA title.
On Dec. 19, two teams of SMBU won third prize in the second National Chess Online Contest for College Students.
On Dec. 21, Russian student Provkina Polina won a merit prize in the fifth "My Beautiful Encounter with China" Essay and Short Video Contest for International Students, and SMBU was awarded an Outstanding Organization Prize.
On Dec. 26, 35 international students were awarded the Guangdong Government Outstanding International Student Scholarship.
On Dec. 31, a social practice team themed "Learning History and Making Progress at Colorful Rural Area in Shanxia Village" won the Excellent Team Award in the 2021 Guangdong Province's "Triple Services for Rural Areas" for College Student Volunteers in Summer Holiday. Four students and two supervisors of the team were awarded as outstanding individuals and the school was also recognized as an outstanding institution.
Vibrant SMBU
On April 28, the 2021 Sino-Foreign Cooperation University Library Annual Conference was held at the university.
On May 12, SMBU was inaugurated as the fourth Chinese test site in Shenzhen.
On June 17, the SMBU Russian Test Center was inaugurated, which is China's only Russian test center authorized by Moscow State University (MSU).
On July 1, the university launched a campus newspaper The Pinnacle.
On Aug. 13, the 2021 FIDE Online Chess Olympiad was launched at SMBU and the school announced a plan to build an international chess museum.
On Nov. 30, the 2021 Maritime Silk Road International Industry-Academia-Research Cooperation Conference Materials Special Meeting was held in the school.
On Dec. 21, the school became a member of the Council on Education of the China-Russia Friendship Committee for Peace and Development.
In addition to the above mentioned activities, SMBU has succeeded in exploring University Enterprise and inter-school cooperation opportunities by signing framework cooperation agreements with the Russian Institute of Demography, Interfax, the Institute of Asian and African Studies of MSU, the Institute of the Far East of the Russian Academy of Sciences, Beihang Investment Company, Dongfeng Design Institute Company, Far Eastern Federal University, Latvijas University, University Bayreuth and the Chinese University of Hong Kong, Shenzhen.