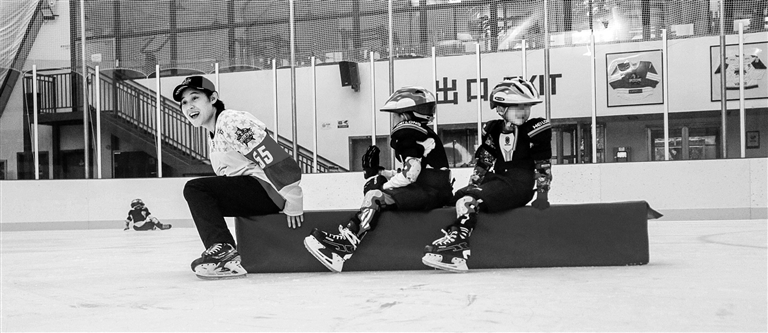 AFTER retirement, Qi Xueting, former leader of the Chinese women's national ice hockey team, came to Shenzhen to promote ice hockey and join charity events. She is now serving as a staffer for the upcoming Beijing 2022 Olympic Winter Games, according to Shenzhen Evening News' report.
Qi started playing ice hockey at the age of 10. In 2010, Qi attended her first Winter Olympics in Vancouver. In 2013, Qi retired from the national team and became a coach for the national ice hockey team.
However, Qi got another chance to compete at the Winter Olympics. In 2017, when Shenzhen Kunlun Hongxing Club and Chinese Ice Hockey Association jointly set up a "national club" to prepare for Beijing 2022 Olympics, Qi was invited to join the club and the team won as a WHL champion (2019-2020).
Unfortunately, Qi suffered a knee injury in 2020 and after thorough consideration, she decided to retire again.
"I didn't give myself too much pressure for my comeback in 2019. I just wanted to give it a shot when there was an opportunity. It is good if I can do it again. If not, at least I tried. I gained a lot over the past two years."
Although Qi will not be able to represent the country to compete in the Winter Olympics, Qi is participating in another way as a staffer for the Games.
Qi is mainly responsible for the work related to the men's ice hockey project. Most players are from professional leagues in the U.S., Russia and Europe.
"When I participated in professional competitions in Canada and Russia, I actually learned more about ice hockey culture, so I understand the habits of professional athletes better," Qi said.
Qi also noted that she was impressed by the citizens' passion for ice hockey in Shenzhen. Each competition held at Dayun Sports Center by Kunlun Hongxing in 2019 drew in large numbers of audiences.
During the 17th China (Shenzhen) International Cultural Industries Fair, Qi was invited to introduce ice hockey culture and knowledge at the fair's subvenue in Shenzhen MSU-BIT University.
"I hope the Beijing 2022 Olympic Winter Games is a new starting point to attract more schools to cooperate with us to jointly promote ice hockey," she said.
(Wang Jingli)