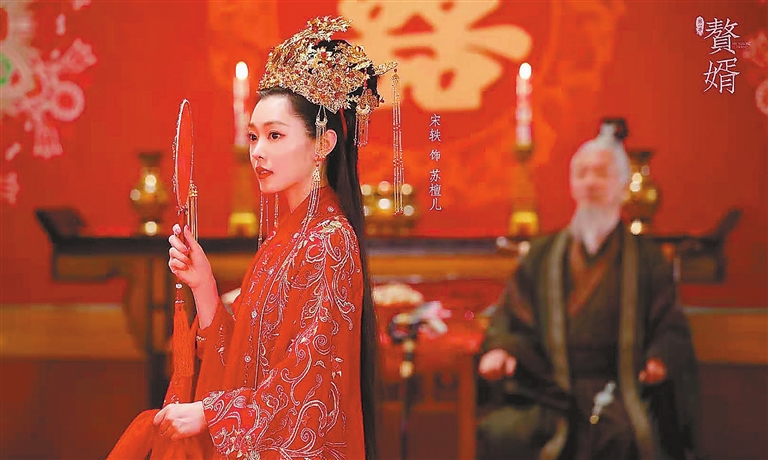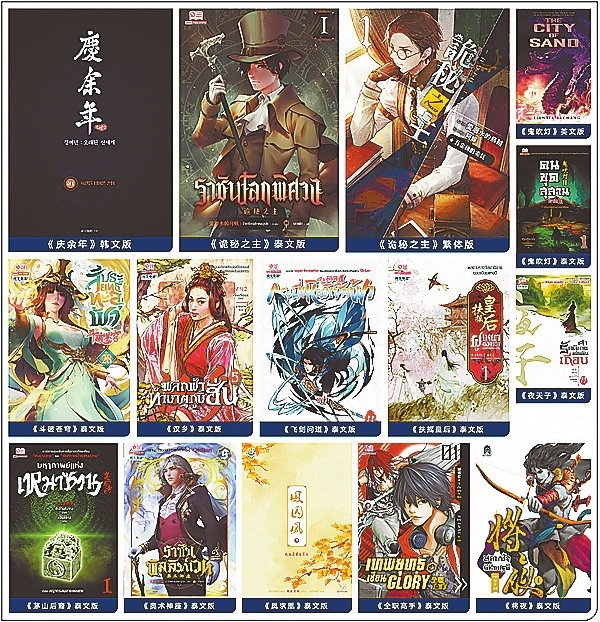 A LIST of the best online fiction from platforms of China Literature Group, the comprehensive cultural business branch of Tencent, was released recently by consultant company Endata. It offers 20 works that are both worth reading and have the potential for adaptations.
Endata limited the time range of evaluation from January 2020, when the works were first launched, to those which kept on updating in 2021. The evaluation refers to the reading traffic, subscriptions and bookmarking data on various platforms of China Literature; discussions on social media platforms of Baidu and Sina Weibo; as well as the influence of the writers' previous works.
It reflects the overall development trend of Chinese online literature in recent years. Consisting of two sublists, according to the preference of male and female readers, the list shows that genres such as science fiction and thriller are leading, and Chinese traditional cultural elements are also popular.
Among the works on the men's channel, sci-fi, thriller and healing are the most popular tags, and in women's, elements such as Chinese traditional culture, independence and workplace are the most popular.
"Dafeng Dagengren" ("Night Watchman of Dafeng Dynasty"), a detective story against a background of Eastern fantasy, topped the men's channel.
"Dizhangnyu Ta Youmei Yousa" ("The Eldest Daughter, She Is Beautiful and Spirited"), a story about a tough and independent young female general, topped the women's channel.
On the list are not only works by popular writers like Yuan Ye, known online as Cuttlefish That Loves Diving, but also works by new writers like Qianhua Jinluo, who was born after 1990.
It echoes the trend that more young people have started writing online fiction.
According to the 2020 Chinese Online Literature Blue Paper, which was released in May by the China Writers Association, among the new writers registered since 2018, 74 percent were born after 1995 and 50 percent were born after 2000.
The 2021 Online Writer Portrait released by China Literature in November showed that writers born after 1995 had become the biggest group, which was also growing the fastest. Among the new writers on China Literature's platforms, 80 percent were of the post-1995 generation. The youngest star writer was 21-year-old Mo Yan, who is serializing her third novel on qidian.com.
Over 20 years of development, Chinese online literature is also seeing its readers change from the post-1980 and post-1990 to post-1995 generations. According to China Literature, post-1995 readers accounted for nearly 60 percent, among whom post-2000 took up more than 42 percent.
As more younger generations have become the readers and writers of online literature, there have been changes in online fiction's narrative structures, elements and genres.
An obvious change is that post-1995 writers love creating shorter and lighter works, and sci-fi is one of their favorite genres.
Among the sci-fi writers of China Literature, the post-1995 generation account for 60 percent and light fiction has increased 370 percent in the past three years.
Male readers still love bloodcurdling adventures, but more are turning to shorter stories with more details, interaction between characters, amusing plots and witticisms.
For example, "Wode Zhiyuxi Youxi" ("My Healing Games") is made up of short thrillers full of warm healing power. "Changye Yuhuo" ("Ember of the Long Night") uses the loose style of a travelogue to create a dark, absurd but hopeful post-apocalyptic world.
Versatility
Another trend presented by the list is that readers prefer works with mixed genres. On Endata's list of top 10 novels for male readers, three are sci-fi; three are Eastern fantasy; three are the combination of thriller and fantasy; and one is historical fiction.
For example, "Cong Hongyue Kaishi" ("Since the Red Moon"), which touches upon the human spiritual world, is a sci-fi-like fantasy. This is a newly developed genre for online literature, says Wang Xiang, a researcher with the Lu Xun Academy of Literature under the China Writers Association. Another, "Yede Mingmingshu" ("The Art to Name the Night"), is a mixture of cyberpunk and time travel.
From ancient or modern romance, female readers expanded their preference to thrillers, crime investigation, traditional gourmet, history and commercial war. Professionalism and independence presented during heroines' growth still resonates among young readers.
Half of the best 10 novels from the women's channel are ancient romance, in which traditional cultural elements, such as acupuncture, tea ceremony and porcelain, frequently appear. It echoes the recent fashion trend of Chinese traditional style.
For example, "Dengtang Rushi" ("The Porcelain Master") tells the story of a female protagonist named Song Jiyun, who was born in a family well-known for porcelain making. By innovating porcelain making through materials, temperature control and techniques, the protagonist manages to lead the family out of trouble. The writer, Zhizhi, ingeniously weaves Chinese porcelain culture with the growth of the heroine.
The list showed fantasy and romance were still the most popular genres among online literature. However, as people from all walks of life become creators, online novels care more about reality.
Online writers are from all walks of life: professors, doctors, police officers, computer engineers, scientific researchers, forensic experts, lawyers, civil servants, veterans, college students and so on. The overall education level of online literature writers has improved, with about 60 percent receiving higher education, according to the blue paper.
Adaptations
The market value of Chinese online literature reached nearly 25 billion yuan (US$3.93 billion) in 2020, with more than 21 million writers and a reader base of 460 million, among whom daily active users surpassed 7.5 million, according to China Audio-Video and Digital Publishing Association.
Online literature is not only the provider of reading content, but also one of the biggest resources for cultural consumption in China among other major forms, such as television, films, video games, audiobooks and radio plays.
The blue paper shows that in 2020, the online literature industry entered a new development stage, where total revenues on its lower stream surpassed 1 trillion yuan.
There were about 140 online novels adapted into TV series, films, video games, audiobooks and so on in 2020.
Among the most popular online TV series, 60 percent were adapted from online novels.
At the start of 2021, "Zhui Xu" ("My Heroic Husband"), a TV series adapted from an online novel of the same title, became one of the most-watched TV dramas. Its popularity resulted in the daily reading traffic of the novel multiplying almost 17 times.
The works on Endata's list all potentially have a high value for adaptations. For example, the radio drama adaptation of "Dafeng Dagengren" was played more than 100 million times within three months of its online launch. The total playing traffic has now surpassed 850 million. Related anime, TV drama and video game adaptations are also in the making.
Works from the women's channel on the list all have intense storylines, refreshing characterization and rich narrative elements. During serialization, a lot of readers follow the updates, which gives them a high potential for TV and film adaptations in the future.
These works, which carry noble ideas, are valuable for promoting Chinese traditional culture, says Li Wei, the professor from Nanjing Normal University.
(China Daily)