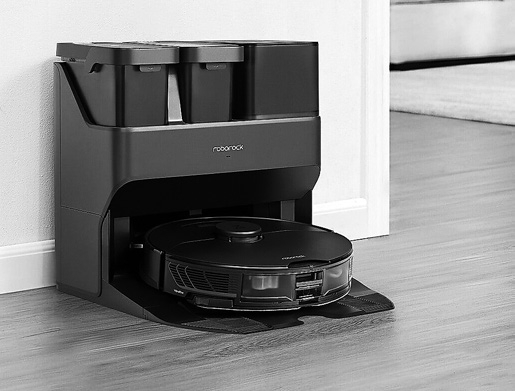 IF you've ever questioned the point of having a cleaning robot that you then have to take apart and clean (ironically replacing one dirty chore with another), Roborock has a treat for you.
The company revealed its most powerful cleaning robot to date; a new flagship model that vacuums and mops your floors, and then connects to a brand new dock to be emptied and, most impressively, self-cleaned.
The new Roborock S7 MaxV was unveiled alongside the new Empty Wash Fill Dock at the CES. This redesigned dock not only empties the device's dustbin and refills its water tank, but also packs a scrubbing mechanism that can clean the mopping element automatically.
With a large dustbin compartment that can go up to seven weeks before needing a new bag, and the new self-cleaning feature, it promises to significantly reduce the amount of user maintenance required, and gets us one step closer to the dream of truly automated cleaning.
The new Roborock S7 MaxV robot itself packs other snazzy new tech for 2022. With 5100Pa of suction force, it's a significantly stronger vacuum than the previous flagship S7 model, which has 2500Pa of suction. That's an over 100 percent increase in suction power. The S7 MaxV will combine the existing LiDAR navigation system with a new Light 3D Scanning and RGB Camera array to more accurately detect and avoid obstacles like shoes, wires, toys or pet waste. So you don't have to go around cleaning up your house before every vacuum run.
As with previous models, the S7 MaxV will boast floor surface detection, with the ability to lift its mopping element automatically when going over carpet, or tune its cleaning intensity on a per-room basis. And it will connect to Roborock's powerful smartphone app, which allows for scheduling, spot cleaning, boundary options and more.
The Roborock S7 MaxV Ultra bundle, which includes the S7 MaxV robot and the Empty Wash Fill Dock, will cost US$1,399.99.
(SD-Agencies)