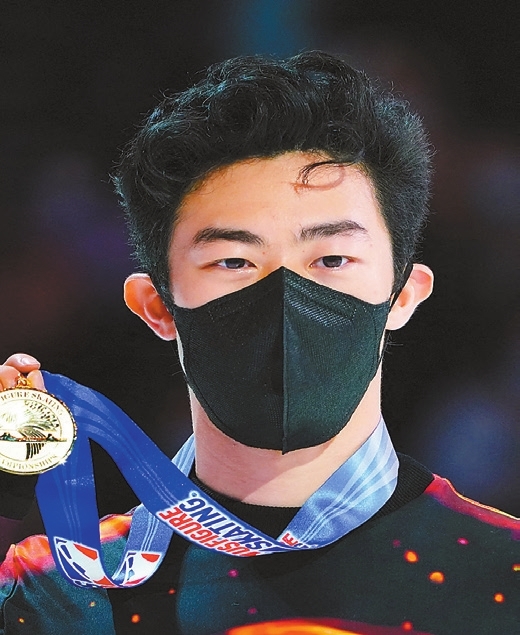 THE crowd chanted and clapped as Nathan Chen finished his performance inside the packed Bridgestone Arena in Nashville, Tennessee, the U.S., on Sunday night. The three-time world champion, who got visibly emotional at the end, deserved the standing ovation for his dazzling footwork and exceptional spins.
With a total of 328.01 points, Chen put in a statement performance at the U.S. Figure Skating Championships, winning his sixth consecutive national title and cementing his status as one of the big favorites for the Beijing Winter Olympics.
It represented an extraordinary turnaround for the American star since his unusual disastrous display at the PyeongChang Games cost him dearly in 2018. He has now come out on top in 15 major events after that infamous blip.
"The crowd was amazing. This was a great time. This was a really fun championships," said Chen, who finished 25.53 points ahead of second-place Ilia Malinin. 2021 Skate America winner Vincent Zhou was third and 2014 Olympic bronze medalist Jason Brown was fourth.
For all his brilliance and dominance, it was not a perfect night for Chen. The 22-year-old fell twice in the free skate. Though it did not matter on that occasion, those tiny errors might make a huge difference in Beijing when Chen takes on his biggest rival Yuzuru Hanyu, who made an impressive recovery from injury to win the Japanese national championship last month.
"That was just a dumb little moment," observed Chen. "I made a couple of silly mistakes. The competition was really tough. We have a great group of athletes, and I'm glad to be part of the generation."
Later in the day, the U.S. Figure Skating's international committee announced that Chen, Zhou and Brown will go to the Winter Olympics. It means 17-year-old prodigy Malinin was passed over for a spot in Beijing despite a sparkling performance at the U.S. Figure Skating Championships.
(CGTN)