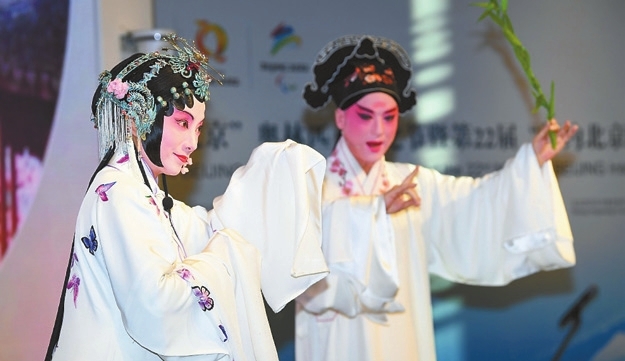 FANS of the Winter Olympics will be able to experience the Games' spirit in a more artistic way at the "Meet in Beijing" International Arts Festival that runs from now to Feb. 18, in the Chinese capital. The 22nd edition of the annual event will be associated with the Winter Olympics.
The event is jointly organized by the Chinese Ministry of Culture and Tourism, State Administration of Radio and Television, Municipal Government of Beijing, the Beijing Organizing Committee for the 2022 Winter Olympics, and the China Arts and Entertainment Group. The festival will provide a feast of various art forms, ranging from orchestra and dance performances to exhibitions of artifacts.
"We have organized nearly 100 different art events from 22 different countries and regions for audiences, including 62 performances, six exhibitions and one art forum," said Xie Jinying, director of International Bureau of the Ministry of Culture and Tourism.
Along with regular events and exhibitions, the upcoming festival will incorporate Olympic elements from home and abroad, and use a variety of art forms and technological methods to promote Winter Olympics culture.
"The Beijing Winter Olympics Organizing Committee will contribute by hosting performing arts, visual arts, film and television exhibitions and celebratory activities. For performing arts, we have organized an ice dance performance 'We Are One' and a Children's play using Winter Olympics (and Paralympics) mascots Bing Dwen Dwen and Shuey Rhon Rhon," said Chen Ning, director of Cultural Activities Department of Beijing Winter Olympics Organizing Committee.
At a press briefing, reporters got a sneak peak of what audiences can expect at the actual event, including some artifacts that will be exhibited at the festival, such as the famous embroidery from East China's Suzhou.
"There are four famous types of embroidery in China, and Suzhou Embroidery is ranked number one. It is known for being neat and delicate. We use silk threads, and each thread is separated into thinner threads. The threads used for Suzhou Embroidery are the thinnest in the world," said Zou Yingzi, a Suzhou Embroidery artist and Chinese arts and crafts ambassador.
According to Games organizers, one major aim to host the Winter Olympics is to promote friendship between countries, and they hope the arts festival will be a platform for cultural exchange.
(CGTN)