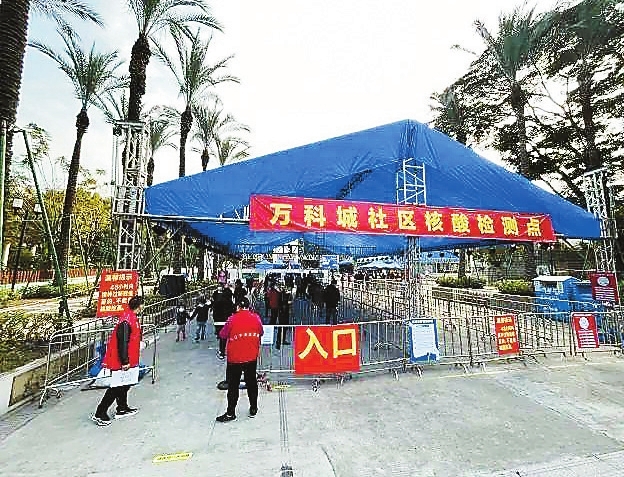 NINE Chinese dialects and foreign languages were used to inform residents of Vanke City to take the COVID-19 test at Bantian Subdistrict in Longgang District, Shenzhen Special Zone Daily reported.
Multilingual audio reminders in Mandarin, Chinese, Hokkien, Teochew, English, Japanese, Korean, French and Spanish provide convenience to residents with diverse backgrounds to participate in the local anti-pandemic work.
As one of Shenzhen's first batch of international blocks and Longgang's only pilot block. Bantian has been home to an increasing number of expats, with about 90 expats currently residing in Vanke City.
In accordance with the latest pandemic prevention and control requirements, all Bantian residents are required to undergo COVID tests for seven consecutive days.
Vanke City thus recruited multilingual volunteers to record audio reminders in different languages and played these recordings via loudspeakers to guide the residents to get tested.
A 45-year-old Japanese resident named Miura Kishin volunteered to record a more accurate version of the Japanese reminder when he took a nucleic acid test at Vanke City on Tuesday. His voice was soon used and heard in every corner of the community.
Kishin, who has been living in Vanke City for six years, said that "I have affection for the place. As a member of the community, I am glad that my voice can pitch in to help fight against COVID-19."
Kishin also gave the thumbs up to Bantian's services to its residents in recent years. "China did the best amid the global combat against the COVID-19 pandemic. In the past two years, I feel safe living here and recently, I take the test every day. Frontline workers and residents are working together throughout the pandemic, which reflects a strong sense of team spirit," he said.
In Dafapu, another community in Bantian, foreign residents also made their contributions. A Serbian family purchased fruits and drinks for medical staffers and volunteers to show their gratitude. "Taking a test every day isn't troublesome. It is the frontliners working from morning till night that are feeling exhausted."
Wan Li, a Vanke City community service worker, thanked residents for understanding and supporting the community and expressed her confidence in Shenzhen citizens' capabilities to win the pandemic battle together.
(Xia Yuanjie)