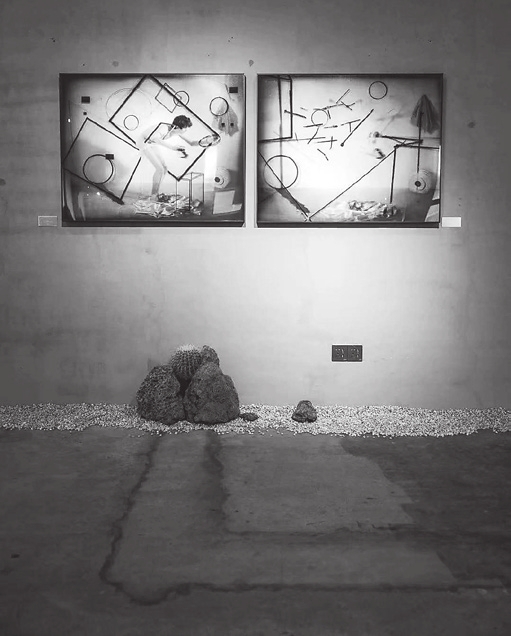 Poland-born artist Gabriela Morawetz is exhibiting her works at the "Utopia Is an Island" exhibition at La Vie in Shekou.
Morawetz studied engraving, painting and sculpture at the Academy of Fine Arts in Kracow, Poland and completed internships in Switzerland and Venezuela. She then moved to France and since 1990 devoted herself to photography. In 2006 she became internationally recognized when she won first prize at the Fifth International Exhibition of Wroclaw, for the retrospective exhibition the Museum of Contemporary Art in Caracas, Venezuela held for her.
She creates her own worlds in her photography, microcosms in which most of the elements are literally made by her. Her latest exhibition in Shenzhen features a series of images using painting, canvas, convex glass, metal, and reflections, drawing on her background in painting, sculpture, and engraving. With Morawetz, images enter into another dimension, one connected as much to her visionary imaginary as to the materials she employs to give them bodily substance. This is a universe that continues to evolve through time by producing and reproducing enigmatic installations that, haunted by mysteries, elicit one's aesthetic perception as much as they arouse one's desire for apprehension.
Morawetz has exhibited works in galleries and museums around the world, including the Chicago Cultural Center in the United States, the Gallery of Modern Art in Poland, the Ralli Museums in Israel, the Yerba Buena Center for the Arts in the United States and the Museum of Contemporary Art in Venezuela.
Dates: Until Feb. 20
Venue: La Vie, inside G&G Creative Community, 9 Liyuan Road, Nanshan District (南山区荔园路9号G&G创意社区内La Vie 物质生活空间)
Metro: Line 2 to Shuiwan Station (水湾站), Exit D
(SD News)