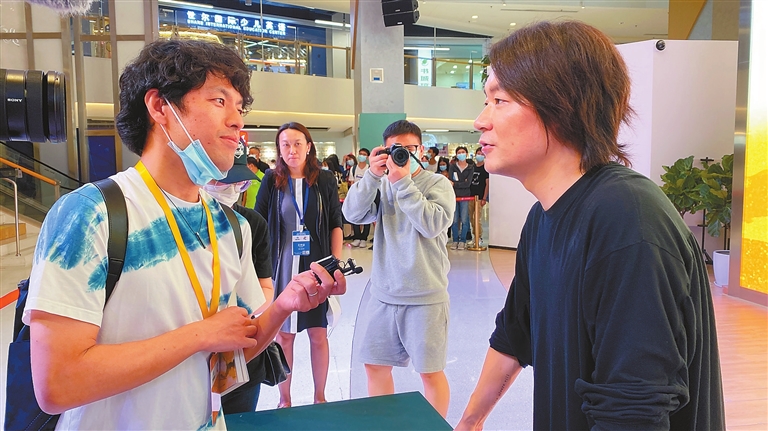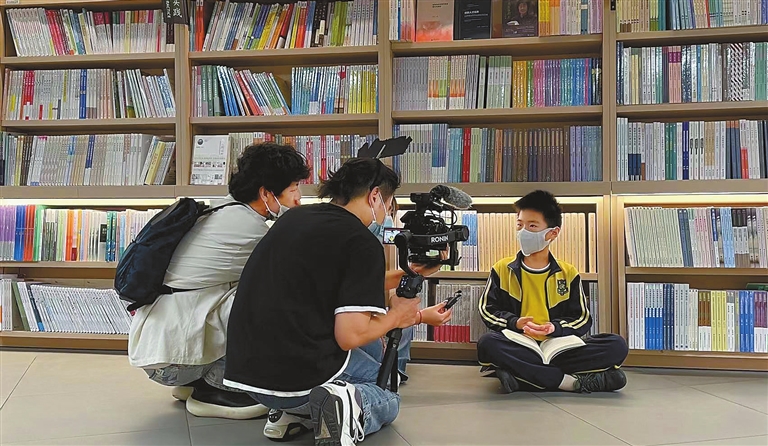 Xia Yuanjie
szrbgracexia@126.com
WHEN filming Shenzhen, most directors tend to focus on "Shenzhen speed" to present this pioneering city of reform and opening up. In sharp contrast, Japanese documentary director Ryo Takeuchi turned the camera on Shenzhen Book City CBD store, one of the quietest and slowest-paced places in the bustling metropolis.
Takeuchi is a Nanjing-based expat documentarist, who has been widely recognized in China via a large number of works focusing on Chinese ordinary people, including "The Reason I Live Here" ("I Live") series, a trilogy under China's anti-pandemic combat topic, and "Beyond the Mountain" on China's poverty alleviation policy.
"I Am Book City," which was published on the internet at the end of 2021, is Takeuchi's latest Shenzhen-themed documentary work, as well as the first episode of a new series, called "I Am Somebody," which spotlights in each installment a part of a Chinese city to record its residents' daily lives.
In the film, the Shenzhen Book City CBD store, the world's largest book mall, is personified to observe its customers. The reason Takeuchi chose the building originates from his first encounter with the place, where he launched a book last year.
He has been deeply impressed since then by the mall's size and the residents' enthusiasm for reading. "I have never seen a bookshop larger than it, even in Japan," Takeuchi told Shenzhen Daily. "Nowadays, people tend to prefer reading eBooks to paper books, but Shenzhen's readers still like to visit brick-and-mortar stores, which I had not expected."
In November last year, a five-person film crew led by Takeuchi interviewed over 50 readers at the Book City during 72 consecutive hours of shooting, and ultimately, the most touching and interesting stories were selected.
The 20-minute documentary, which consists of 10 brief interviews of readers with diverse backgrounds, such as kindergarten teachers, an 86-year-old reader, and a mother and a daughter with autism, vividly presents Shenzheners' pursuit for rich intellectual and cultural lives and for peace of mind.
"My favorite part is a story of a mother and her blind daughter," said Takeuchi. The blind young woman, who lost her eyesight because of illness in her junior year at the university, regained passion and hope for life from reading.
"The daughter told me it is the citywide handicapped accessible facilities and millions of volunteers that attracted her to settle down in Shenzhen. Yet for my previous interviewees of Shenzhen, making money is a common reason to live in China's Silicon Valley," he said.
Over the past year, he spent almost half of the time shooting films for the "100 Faces of Huawei" project and for the Shenzhen-themed "I Live." "I had a stereotype that the reason people coming to Shenzhen from all over the world was to start a business and seek better career opportunities. I didn't know the city is equally appealing in the cultural sector," he said.
Although being overshadowed by its achievements in high technology and manufacturing industries, Shenzhen has been booming in cultural development for years: The city has topped among Chinese cities in per capita annual expenditure on books for 29 years, and it has organized a citywide reading campaign for 21 years.
"To make this documentary, I want to dispel prejudices concerning Shenzhen as a cultural desert, as a place where only skyscrapers and high-tech enterprises exist. The place in fact boasts a lot of cultural treasures," Takeuchi told Shenzhen Daily.
In the future, the Japanese documentarist plans to make more films with a variety of topics related to Shenzhen. "I'd like to offer a sincere invitation for Shenzhen Daily readers to recommend interesting people and places," he added.
People who have any clues can leave messages to the director by searching for 竹内亮 (the Chinese for Ryo Takeuchi) in Weibo, the Chinese version of Twitter.