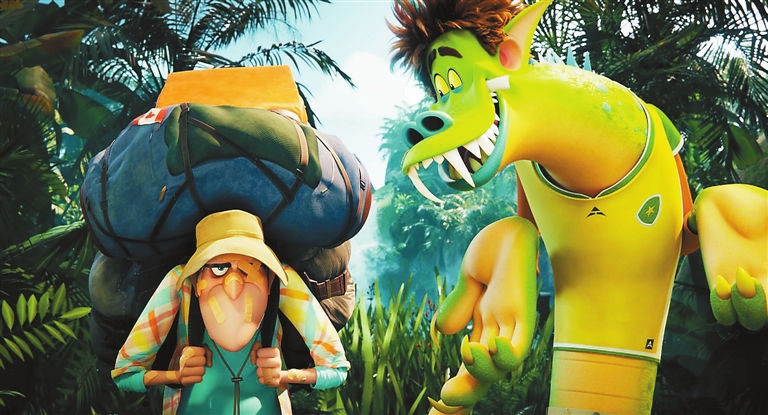 Released on Prime Video last week, "Hotel Transylvania: Transformania" is the fourth and final film in the "Hotel Transylvania" series. In this one, when Van Helsing's mysterious invention, the "Monsterfication Ray," goes haywire, Dracula and his monster pals are all transformed into humans, and Johnny becomes a monster. In their new mismatched bodies, Dracula, stripped of his power, and an exuberant Johnny, loving life as a monster, must team up and race across the globe to find a cure before it's too late, and before they drive each other crazy. With help from Mavis and the hilariously human Dracula Pack, the heat is on to find a way to switch themselves back before their transformations become permanent.
"Transformania" delivers what most viewers would expect from a "Hotel Transylvania" film: frenetic energy, physical comedy and Dracula learning another lesson about acceptance.
This time around, the film also has some elements that its young intended audience likely will not notice nor care too much about. A story about being ready to pass the torch, "Transformania" sees Genndy Tartakovsky — who directed the first three "Hotel Transylvania" films — hand over directing duties to Derek Drymon and Jennifer Kluska.
The celebration that kicks off the action this time is Hotel Transylvania's 125th anniversary. Dracula, who watched beloved daughter Mavis grow up within the walls of the establishment, is ready to hand her the reins so he can enjoy retirement with his new love, Ericka.
As much as Dracula believes in Mavis' ability to keep things running, he absolutely does not trust her human disaster husband Johnny to not muck things up. One thing leads to another and Dracula and Johnny essentially switch places —Dracula becomes human and Johnny a monster — because, as the old adage goes, you can't really know someone until you walk a mile in their shoes.
In this case, that mile is stretched into an adventure through the jungles of South America. It's a setup that allows Dracula, among other things, to suffer through sunlight in the most extreme ways a human can. The film then has gleefully kinetic visuals suit action scenes beautifully and there's a fair bit of action to come. The script has some fun watching the rest of the crew at home, dealing with their transformed selves before they realize where the fellas have gone and set out to save them.
Younger viewers who already have an affinity for the "Hotel Transylvania" film series likely will find enough to keep them entertained in this final installment. The amount of havoc the normally goofy but fairly harmless Johnny can wreak as a monster is impressive.
(SD-Agencies)