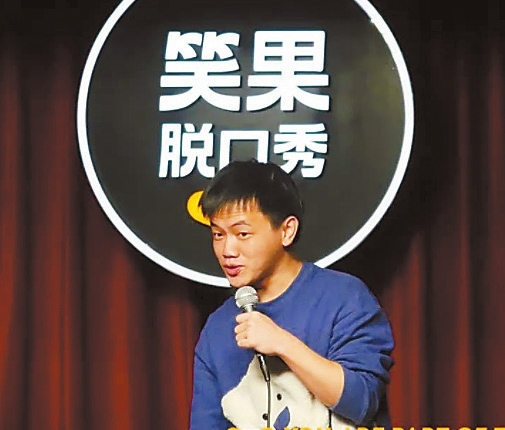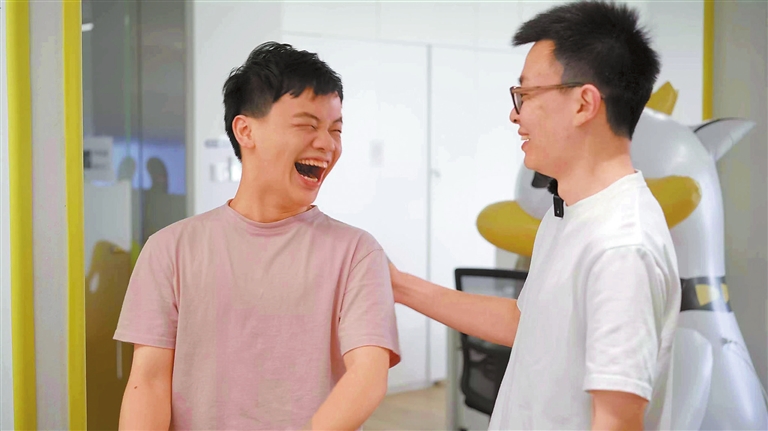 A stand-up comedian is, supposed to be, a fluent communicator who is also good at using body language to accompany jokes. However, for 27-year-old comedian Zhang Jiaxin (better known as Xiao Jia on stage), it takes a great effort to clearly pronounce the sounds of each character and sentence and be flexible on the stage.
At birth, the oxygen supply to his brain was curtailed, which led to later problems with speaking and walking, and the loss of full use of his right hand.
As a schoolboy, he was bullied because of his uneven legs and awkward body movements, he recalls. Zhang says he is grateful for these painful experiences. "It is these experiences that have made me unique on the stage. The things that brought me harm, unhappiness and pain have all been written into my scripts," says Zhang, adding that he is good at turning adversities into advantages.
It was two years ago when Zhang first performed stand-up comedy on the stage. He had to prepare for a performance at the company's year-end party.
He didn't know much about stand-up performance. However, as someone who liked entertainment shows from a young age, he decided to present a humorous monologue at the party.
"I didn't organize puns, punchlines or setup according to a proper joke structure," he recalls. "I simply tried to roast my job and some of my colleagues in a funny way."
It opened Zhang's door to a colorful world of stand-up comedy. He started to pay attention to the stand-up comedy live shows in Xiamen in Fujian Province, and got the contact of a woman who worked at a local stand-up club.
The woman encouraged Zhang to write down jokes and test his material at open mics hosted by the club. But he shrank from showing his physical imperfections onstage.
"She sent me some videos of Drew Lynch (an American stand-up comic who developed a permanent stutter due to a sports injury earlier in his life) and told me that my defects are what make my appeal special," he says. "That inspired me to have a go."
After he read through a manual for writing and performing stand-up comedy, he started to examine his daily life to identify humorous moments that could be used as jumping-off points to launch into stories.
He then performed at an open mic held in May 2020. Once he walked onto the stage, the audience immediately noticed his differences.
"Initially, they were kind of walking on eggshells to spare my feelings. As I gradually opened myself to them, the atmosphere relaxed," he says. His jokes went down well as he worked the room with his humor.
That motivated him and later he became a full-time stand-up comedian. At the end of 2020, Zhang attended a comedy camp held by Fun Factory that has produced hit stand-up comedy reality shows including "Rock & Roast" and "Roast." There, he met comedian and scriptwriter Cheng Lu who encouraged him to use more of his personal experiences as material.
He began to pluck up the courage to exploit his physical handicaps or recollect hurtful memories when writing jokes and surprisingly found out that the process helped him to embrace his imperfections and get over the painful experiences.
Now a relatively experienced comedian, Zhang has won top medals in national stand-up comedian competitions and this year, he participated in the popular stand-up competition show "Rock & Rost." "I want to break the stereotypical ideas people hold about vulnerable groups. I just want to be treated as a common member of the society," he says.
A bigger dream of Zhang is that he hopes his performances could help people heal.
He often recalls a woman who approached him in tears after a live show in Xiamen. The woman was the mother of a 4-year-old child with physical challenges. "She told me that she didn't have any confidence in the child's future until she watched my performance. That means a lot to me," says Zhang. "I feel honored to raise up more people who suffer from the trials of life," he says.
"I imagine that there are probably some people in the audience with similar experiences as mine. I hope they laugh aloud when they hear what I say," he says.
(SD-Agencies)