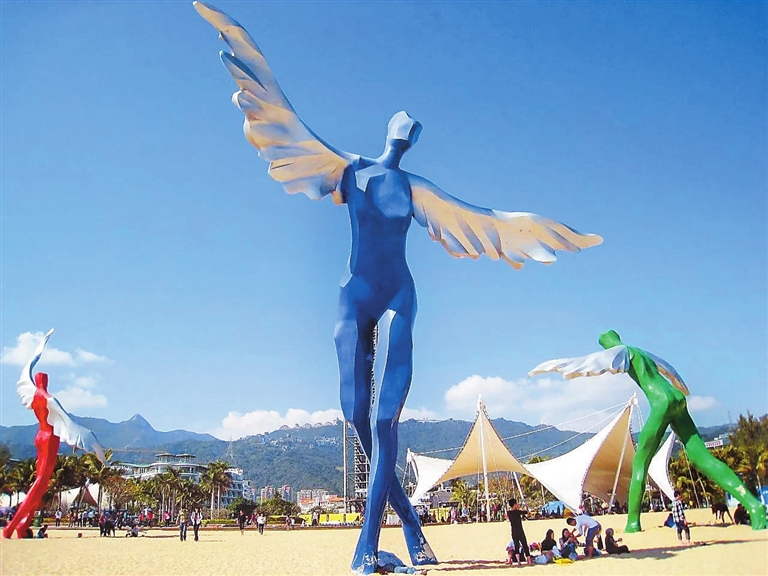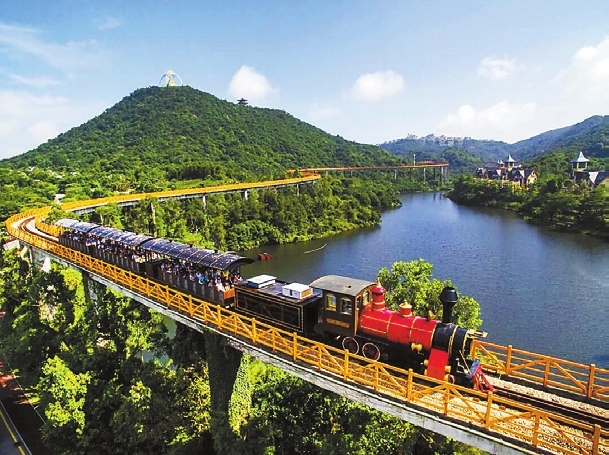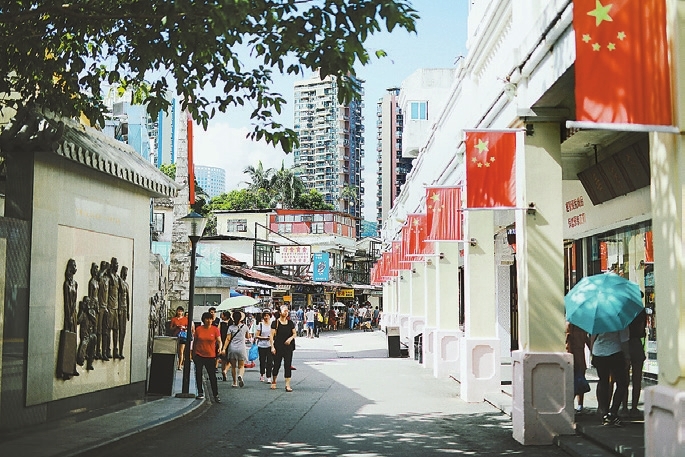 IN a list released by the Department of Culture and Tourism of Guangdong Province recently, Yantian Red-themed coastal route is selected as one of the recommended rural tourism routes in Shenzhen, along with the Bao'an Red-themed tourist route. With a coastline stretching 19.5 kilometers, Yantian District is set against mountains and faces clear sea water. In addition to rich natural scenery, the district also enjoys abundant historical and cultural resources.
The Yantian Red-themed coastal trip connects Zhongying Street with the Yantian Coastal Promenade, Dameisha Beach Park, Dameisha Coastal Cultural Tourism Art Town, and Shenzhen Overseas Chinese Town East (OCT East).
Zhongying Street is on the border between Hong Kong and the mainland, on the south of Shatoujiao, Yantian District. It is just around 250 meters long and three to four meters wide, with a stone boundary monument in the street center.
On March 18, 1899, the border town Shatoujiao was divided into two parts — the Chinese section and the British section, in accordance with the Convention for the Extension of Hong Kong Territory, a lease signed between the Qing Dynasty (1644-1911) government and the United Kingdom.
Since then, the residents of Shatoujiao were forced to live on two separate sides of the town, marked by the street's boundary markers on the border between Hong Kong and the Chinese mainland.
In October 2019, these markers on Zhongying Street were listed in the eighth batch of national key cultural relics protection units by the State Council. At present, there are eight boundary markers on Zhongying Street. On July 1, 1997, Zhongying Street became the only street in China to implement the "one street, two systems" policy in the wake of Hong Kong's return to the motherland.
The winding Yantian seaside promenade is 19.5 kilometers long with beaches and islets with sea-eroded landforms scattered among them, making it the most beautiful "golden coastline" in Shenzhen. It's the most beautiful coastal trek trail in eastern Shenzhen.
The seaside promenade connects tourist spots with spectacular scenery, and includes Dameisha, Xiaomeisha, and Beizaijiao. The leisure path, with tourist and sports elements, also extends to Seafood Street, which is a promenade along with local commercial blocks.
As one of the most popular summer resorts in Shenzhen, Dameisha Beach Park has a golden-sand beach area of 100,000 square meters. It is free to the public, but people who would like to visit the park should first apply online.
Located in Dameisha Village in Yantian District, Dameisha Coastal Cultural Tourism Art Town features high-end homestays, art and commerce. It blends local elements into its design. It's home to art galleries, artists' workshops, unique book bars, restaurants and bazaars.
OCT East, located at Dameisha in Yantian District, covering an area of 9 square kilometers, is the first domestic comprehensive national ecological tourism demonstration area integrating different themes such as vacation, sightseeing, outdoor sports, and science popularization education.
It consists of six parts including Knight Valley Eco Park, Tea Stream Valley Holiday Park, Wind Valley Sports Park, Theme Hotel Cluster and Tianlu Mansion. (Chen Xiaochun)