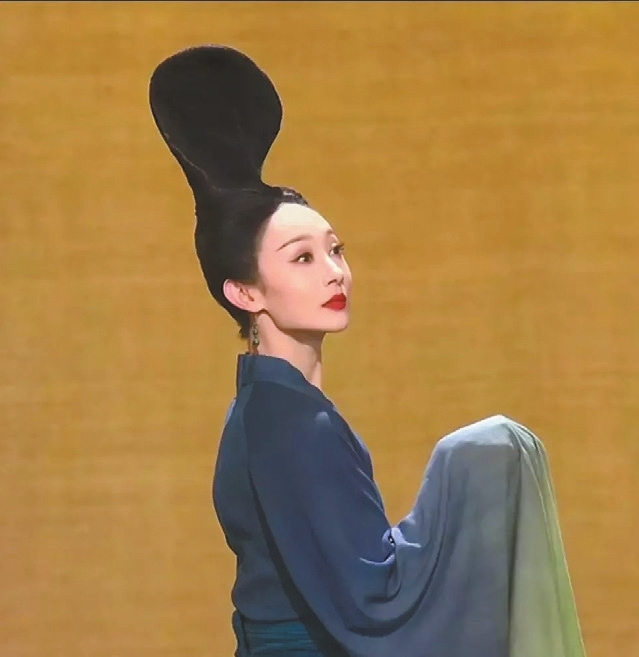 TIME has not diminished its hold over the public imagination as was proved in 2017, when thousands of people lined up for hours to get a glimpse of "A Panorama of Rivers and Mountains," when the classic artwork was exhibited at the Palace Museum. Artist Wang Ximeng completed the milestone piece during the Song Dynasty (960-1279) at the age of 18. It is widely acknowledged to be one of the most important works in the history of Chinese fine art history. The 11-meter-long scroll painting is a record of people's lives and the natural scenery of that time, mixing realism with creative imagination. There are mountains, rivers, villages, ports, temples and pavilions. The painting is housed at the museum.
Choreographers Zhou Liya and Han Zhen were among those who jostled among the gathered masses back then. "We squeezed through the crowds and tried to get as close as possible to the painting," they recall vividly. "It is extremely rare to see a painting, which is nearly a thousand years old, so intact."
In early 2020, they were commissioned to create a dance piece by the China Oriental Performing Arts Group, the Beijing-based company they work for. They initiated the idea of choreographing a dance piece based on the seminal artwork.
"The painting is full of detail and it's amazing," recalls Han. "When we started to associate it with a dance piece, all the memories of seeing the painting in 2017 came rushing back so vividly.
"It feels like embarking on a journey back to the Song Dynasty, which cannot be described in words. We are deeply moved by the painting."
For over a year, Zhou and Han worked on choreographing the dance piece. Along with more than 40 dancers of the China Oriental Performing Arts Group, they started rehearsals in March last year.
On Aug. 20, the dance piece, titled "Poetic Dance: The Journey of a Legendary Landscape Painting," premiered at the National Center for the Performing Arts in Beijing. With warm feedback from audiences, the dance piece had a successful national tour starting in September, with more than 50 shows, visiting about 20 Chinese cities, including Xi'an in Shaanxi Province, Jinan in Shandong Province, Xiamen in Fujian Province and Beijing. The dance will have a second tour around China starting next month, with the first stops in Haikou, Hainan Province, and Dongguan in Guangdong.
The duo tested their choreographic ideas over and over again to portray the painting's beauty through traditional Chinese dance movements. They also worked with the technicians to create a sophisticated set, which involves a revolving stage.
"One of the most memorable parts of creating this dance piece is working with experts and researchers at Beijing's Palace Museum, who are consultants on the production," says Han. "We visited their offices and saw them restoring cultural relics at the venue, which we had never seen before."
Palace Museum researcher Wang Zhongxu, curator of the exhibition in 2017, is one of the consultants.
"He told us delicate details about the painting, which is a trove of traditional culture, as well as telling us his stories about those cultural references. He inspired us to create a character to act as a guide, who is known as zhan juan ren, or the man who unfolds the painting," adds Zhou. "Audiences follow zhan juan ren to explore the world of traditional Chinese culture."
They also invited intangible cultural heritage inheritors to demonstrate and teach dancers about their craft, such as the art of seal engraving, making writing brushes and silk weaving.
"The dance moves not only portray those inheritors, but also display the beauty of their crafts," Han says. "It's a very long yet rewarding experience to finally put this dance work onstage, which is very different for all of us."
Both in their 30s, Han and Zhou were classmates at the Beijing Dance Academy from 2002 to 2006, majoring in choreography. Since 2015, they have been working as a duo, choreographing dance productions of various styles commissioned by dance companies across the country, such as "Dragon Boat Racing," a dance drama that blends traditional Cantonese music and history, and "Du Fu," another dance piece telling the story of the eponymous Tang Dynasty (618-907) poet.
In 2018, the duo choreographed a dance drama, titled "The Eternal Wave," adapted from a classic 1950s film and revolves around an underground Communist telegrapher who works undercover to fight against the enemy. "The Eternal Wave" has been staged over 100 times nationwide and is one of the best-selling dance dramas in the country.
"Unlike our other works, which usually tell stories, this dance work is not a narrative. It's abstract and, like traditional Chinese paintings, leaves audiences enough space to imagine by themselves," says Zhou.
The two choreographers read messages posted by audience members on social media platforms and they were touched that people not only saw the beautiful dance moves, costumes and stage sets, but also expressed their love for traditional Chinese culture.
"People got emotional, and even cried, when they watched it. It's in their blood," says Han.
According to Jing Xiaoyong, head of China Oriental Performing Arts Group, whose history dates back to the 1950s, 120 shows of the dance have been booked by theaters across the country this year.
The company also plans to shoot a film based on the dance, hoping to bring it to more audiences home and abroad.
"We've already received invitations to perform it abroad, but due to the COVID-19 pandemic, we have had to postpone our plans for taking the production on an overseas tour," says Jing.
Jing traveled to some of the cities during this year's nationwide tour.
"The curtain call at the end of each show was emotional, when all the cast and crew came onto the stage to bow. They were not only bowing to the audience but also to our ancestors, who left us these great treasures," Jing says.
(China Daily)