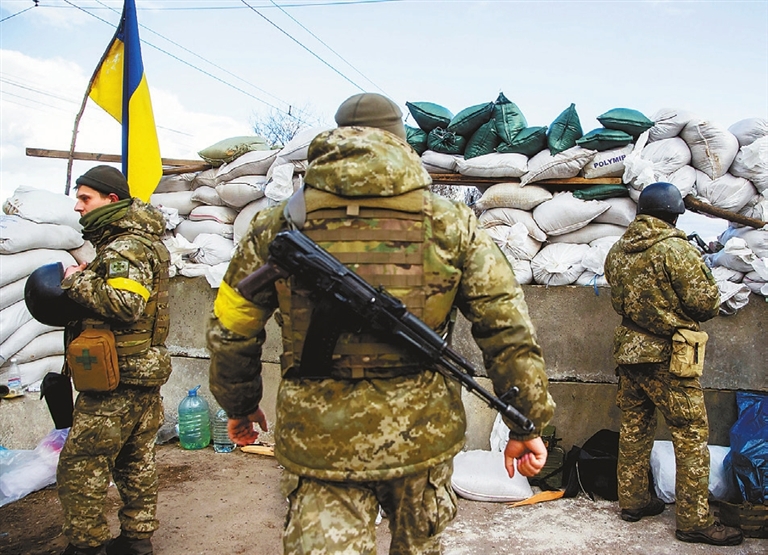 THE Ukrainian army said yesterday that the situation in its capital Kiev was still under control.
As the Ground Forces of the Ukrainian army posted on Facebook, Ukrainian forces still had Kiev in control as it defeated the repeated attempts by Russian troops to storm into the city outskirts at night.
Ukraine has mobilized about 100,000 troops amid the conflict with Russia, Valery Zaluzhny, chief commander of the armed forces of Ukraine, said Sunday on Facebook.
About half of the mobilized forces belong to the Territorial Defense Forces of the armed forces of Ukraine, Zaluzhny said.
Meanwhile, the Russian troops had failed to control any big regional cities and Ukrainian forces had repelled the Russians on all fronts Sunday night, the local National News Agency of Ukraine cited Fedir Venislavsky, a member of the Verkhovna Rada Committee on National Security, as saying.
Although Russian troops have launched air raids on several cities including Kharkiv, Kiev and Chernihiv, Ukrainian air defense systems withstood the attacks, said the report.
Ukraine agreed to hold talks with Russia at the Belarusian-Ukrainian border near the Pripyat River, Ukrainian President Volodymyr Zelensky said Sunday via social media.
The talks were expected to start 9 a.m. GMT Monday.
The agreement to hold the talks was reached during a phone call between Zelensky and Belarusian President Alexander Lukashenko.
Earlier Sunday, Russian President Vladimir Putin ordered the country's deterrence forces to be placed on "a special mode of combat duty" in a meeting with top defense officials, accusing Western countries of imposing "illegitimate sanctions" against Russia's economy.
Senior officials of leading NATO members issued "aggressive statements" against Russia, Putin said at a meeting with Defense Minister Sergei Shoigu and Chief of the General Staff of the Russian Armed Forces Valery Gerasimov.
The decision to put the deterrence forces on combat duty was made as Russia has been conducting "a special military operation" in Ukraine since early Thursday.
Russian forces had destroyed 975 Ukrainian military infrastructure objects, Russian Defense Ministry spokesman Igor Konashenkov said Sunday morning. (Xinhua)