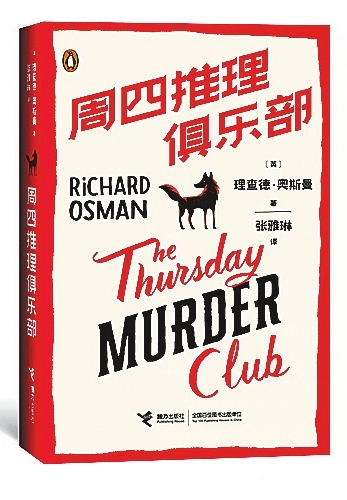 "THE Thursday Murder Club: A Novel," the debut book by Richard Osman, will hit the shelves in China this April published by Jieli Publishing House.
The book was first published in the U.K. in September 2020 and continued to top the Amazon Most Sold List in the U.K., becoming the best-selling new book of 2020 in the country. The novel has also achieved impressive sales worldwide, with the rights sold to 43 countries and regions so far.
The book has been shortlisted for several major international awards and won honors such as author of the year at the British Book Awards in 2021.
The book tells the story of four pensioners in a senior retirement village in the British countryside. They form a "Thursday Mystery Club" to analyze unsolved cases. One day, when actual crimes happen at the retirement home, they come together to crack the case.
A hit with many readers in English-speaking countries, the book has caught the eye of Steven Spielberg, whose Amblin Entertainment has bought the rights to adapt the book for a film and television series of the same title.
The novel is a series of four books in the author's catalog. "The Man Who Died Twice," second in the series, was published in the U.K. in September 2021 and became the fastest-selling new book on record in the U.K. The book sold more than 100,000 copies in its first week and half a million in the first two months on the market.
The Jieli Publishing House has also acquired the rights to the simplified Chinese version of the second book, scheduled to hit the market by the end of 2022.
(China Daily)