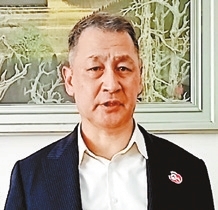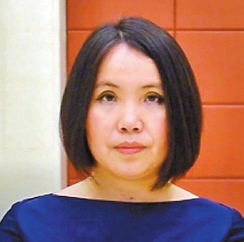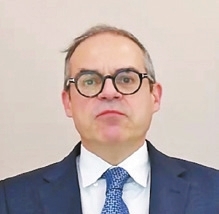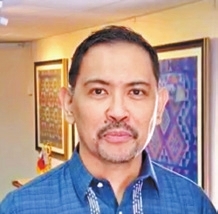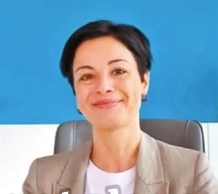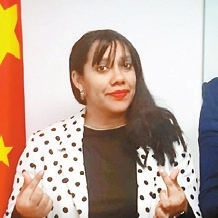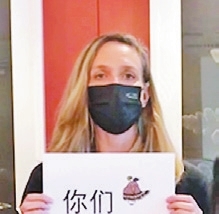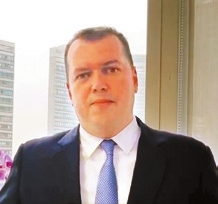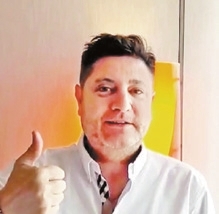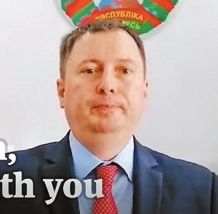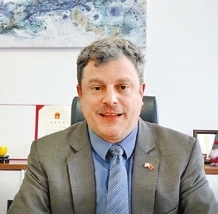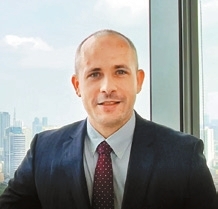 Over 10 consuls general in Guangzhou cheered up Shenzhen people amid the recent weeklong COVID lockdown via videos sent to the Shenzhen Municipal Foreign Affairs Office and Shenzhen Daily last week.
Due to the recent COVID resurgence, Shenzhen had stepped up its anti-pandemic measures since March 14 to contain the spread of the virus by suspending bus and Metro services and placing housing compounds citywide under lockdown until Sunday.
Consuls general of Japan, the U.K., France, the Philippines, Italy, Cuba, New Zealand, Greece, Israel, Belarus, Uruguay and Hungary sent their gratitude and support to medical staff, anti-pandemic volunteers, community workers and residents across Shenzhen.
People can view the videos through the WeChat accounts of Shenzhen Daily and ShenzhenForeignAffairs (深圳外事).
Kamei Keiji
consul general of Japan in Guangzhou
Hello everyone in Shenzhen. There are many Japanese companies, Japanese nationals and Japanese schools in Shenzhen. We thank Shenzhen people for your continued support. I think you are suffering from the influence of the coronavirus, but I believe that everyone in Shenzhen can overcome this difficulty with your efforts. Everyone, please stay safe and stay strong. Good luck! Shenzhen, jiayou!
Nipatsorn Kampa
deputy consul general and acting consul general of Thailand in Guangzhou
On behalf of the Royal Thai Consulate General in Guangzhou, I would like to join other consulates in Guangzhou in giving the people of Shenzhen our full support.
We are confident that with the measures undertaken by the local authorities and the determination and commitment that the people of Shenzhen and medical personnel have shown, Shenzhen will overcome the latest rise in number of cases very soon. Shenzhen, jiayou!
Jo Hawley
consul general of the U.K. in Guangzhou
To all our friends in Shenzhen, I know you have been having a really tough time as of late, so sending you all of our best wishes from the British Consulate here, wishing you all to stay strong, safe and healthy. Thank you all for your hard work. Shenzhen, jiayou!
The flowers are blooming during the spring, and we look forward to seeing each other soon.
Sylvain Fourrière
consul general of France in Guangzhou
Dear friends in Shenzhen, during the difficult moments that you are currently going through, the Consulate General of France in Guangzhou and the French people in South China will unite with you to overcome it together. We are with you, dear Shenzhen residents and dear French people who live in this beautiful city. Shenzhen, jiayou!
Marshall Louis Alferez
consul general of the Philippines in Guangzhou
Heartful greetings from the Consulate General of the Philippines in Guangzhou. Since the first outbreak of COVID-19, we have learned to deal with this enormous challenge by working together and cooperating with each other, including with those who put their life on the line every day to help those in need.
We just want to express our heartful admiration to the frontliners in Shenzhen, who are making their extra efforts every day and every night to lend a helping and caring hand to those who are sick. Apart from the frontliners, I also thank the municipal government of Shenzhen for ensuring the well-being of the Philippine community there. Thank you for keeping my fellow Filipinos safe.
That is very emblazoned that every person behind the mask is someone who is resilient, brave, determining and full of hope. To the people of Shenzhen, especially the frontliners, jiayou! We will overcome this challenge and will continue to work together.
Lucia Pasqualini
consul general of Italy in Guangzhou
I would like to send my greetings and support to the city of Shenzhen, our Chinese friends and foreign community living there. We are aware that you are facing a very difficult moment, but we are sure you are going to make it altogether. You are a fantastic community, and you are not alone because there are many people working for you. Among them are some Italians providing food and working at health monitoring centers. So, even from Guangzhou, we are thinking of you. We miss coming to Shenzhen — we used to come once a week at least. We have several businesses [there], and we are going to re-establish this routine very, very soon.
Denisse Llamos Infante
consul general of Cuba in Guangzhou
Shenzhen, jiayou!
The Consulate General of the Republic of Cuba in Guangzhou embraces our brotherly Shenzhen people!
Rebekah Mawson
consul general of New Zealand in Guangzhou
Hello, we are from the New Zealand Consulate General in Guangzhou. There will be a rainbow after the storm! To all the medical staff: Thank You! Shenzhen, jiayou!
Martinos Mandalidis
consul general of Greece in Guangzhou
I am Martinos Mandalidis and I am the consul general of Greece in Guangzhou. To all our friends in Shenzhen, I want to say, stay safe and be strong. I know the last days have been difficult, but I am confident that Shenzhen will come through this and will overcome this latest COVID-19 challenge. Life will soon get back to normal.
Our thoughts are with all the people of Shenzhen, but also with the medical staff and the frontline workers who make sure that everyone stays safe. You have our full support and solidarity. Take care of yourself and of each other. Shenzhen, jiayou!
Peleg Lewi
consul general of Israel in Guangzhou
Shalom, hello! I am Peleg Lewi, the consul general of Israel in southern China. My dear friends in Shenzhen, I want to offer my support. I know these days will pass very quickly. Be strong! Be safe! We will win the battle against COVID-19. We will overcome. Good luck!
Andrei Popov
consul general of Belarus in Guangzhou
Dear Shenzhen people and honored leaders, the Consulate General of Belarus in Guangzhou is paying attention to your self-sacrifice and highly professional efforts for epidemic prevention and control in Shenzhen with admiration and gratitude.
We are grateful because we know that you are fighting against the virus day and night for the safety and health of all of us. The anti-pandemic fight is also for foreign citizens, including citizens of the Republic of Belarus and our children and families living and working in this part of China.
We will always stand in solidarity with you. I believe that the situation will improve soon, and your beautiful city will return to normal and continue to achieve greater success in socio-economic development and mutually beneficial international relations. Shenzhen, we are with you.
Martin Abal
consul general of Uruguay in Guangzhou
Dear friends in Shenzhen, on behalf of the Oriental Republic of Uruguay and myself, I would like to take advantage of this opportunity to send you a warm hug, particularly in these difficult times.
From the city of Guangzhou, the provincial capital, we feel all our friends in the Greater Bay Area as brothers, and we are sure that in the most difficult moments in life, which won't last for a long time, strong people always remain strong.
We send our greetings to everyone and our deepest gratitude and acknowledgment to all Shenzhen authorities, health personnel, doctors, nurses, as well as workers in general, who take care of us, deliver our food, clean our streets, etc. All united in their great daily effort to defeat the COVID-19 pandemic for Shenzhen, for Guangdong, for China, for Uruguay and for the world.
Péter Várfi
consul general of Hungary in Guangzhou
Dear citizens of Shenzhen, I am Péter Várfi, the consul general of Hungary in Guangzhou. I really want to show my appreciation and gratefulness to all of the hard-working people who are fulfilling their responsibilities to guard the public's well-being, who keep standing fearlessly in face of this pandemic.
And I also want to express my deepest concern and gratitude to every Shenzhen citizen who is also contributing to the community by complying with the prevention and control measures. Each of you is a true hero.
At this difficult time, please don't forget that we are standing with you and supporting you as always.
(Reporters: Xia Yuanjie, Wang Haolan and Chen Xiaochun)