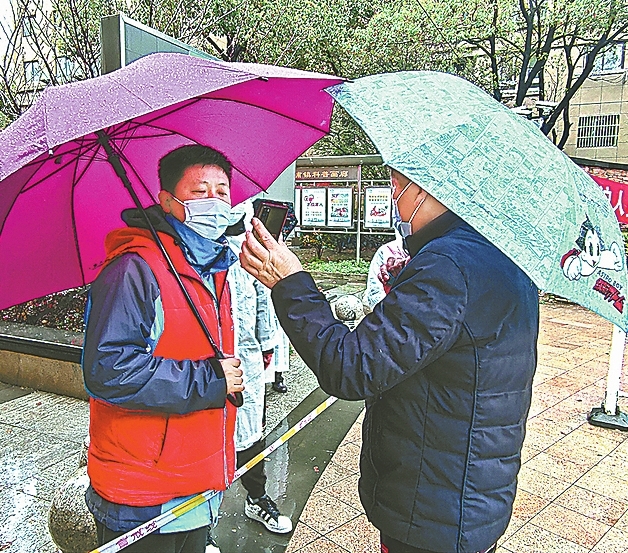 IT was midnight Saturday by the time Wang Yu had finished helping to administer nucleic acid tests to about 6,000 people in a residential community in Shanghai, which is experiencing its worst COVID-19 outbreak in two years.
Instead of taking a rest, Wang, an army veteran and a social worker in Taopu Township in Shanghai's Putuo District, reviewed a list of the community's immobile elderly in poor health to make sure they had been provided with daily necessities, including rice and vegetables, during the citywide lockdown.
After all the work was done, it was almost 3 a.m. Sunday. But Wang, who joined the army in December 1994 and retired in 2000, said, "The responsibility of every veteran is to forge ahead in critical moments and solve people's problems."
As a member of the township's volunteer service team, which was established in 2017 and consists of 11 veterans, the 44-year-old added, "I feel duty-bound to help the metropolis fight against the epidemic."
His 10 teammates are also helping other communities in the town distribute food and medicine to ensure residents have adequate supplies.
"There's a lot of pressure on us, because the more supplies we can efficiently deliver, the better the sense of security the people will have during the lockdown," he said.
He told China Daily that he is most concerned about the elderly in his community, especially those living alone, as they are more vulnerable to becoming infected with the Omicron variant, and many are unable to use smartphones.
"Therefore, it is important to figure out which household has such seniors, and paying closer attention to their physical condition is a must," he added.
In Shanghai, which reported 3.82 million residents age 65 and above in 2020, special care for the elderly has been offered by many neighborhoods to lift their spirits and keep them safe amid the outbreak.
Besides asking residents to be more aware of the health of the elderly, Wang and his teammates have suggested that young people help seniors use their cellphones to arrange food delivery services during the closed-loop management in their communities.
"We'll try our best to find out what medicines the elderly need as soon as possible and help them complete their health checks, such as the ones for nucleic acid tests and antigen tests, through their smartphones," he added.
Due to the severity of the outbreak, the Shanghai Veteran Volunteer Service Corps posted a notice on its website Thursday calling for more veterans under the age of 50 who are in good health to register to be volunteers in their residential communities.
The notice encouraged veterans to act with a strong sense of mission, responsibility and commitment.
The city's COVID-19 outbreak began March 1. Districts east of the Huangpu River have been locked down since March 28.
(China Daily)