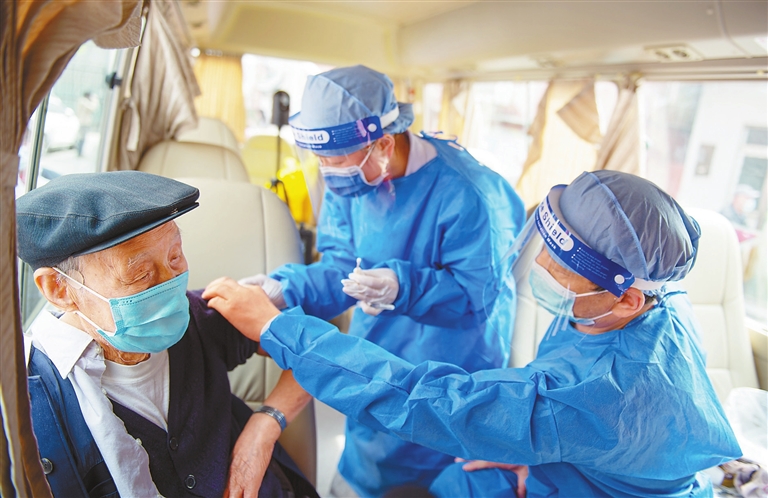 SIXTEEN of the current 18,170 COVID-19 patients in hospitals in Shanghai are severely ill, the Shanghai government said Sunday.
The city, which is experiencing its worst COVID-19 outbreak in two years, has reported more than 340,000 local infections since early March, most of them being asymptomatic.
All of the severely ill patients, 15 of whom are age 70 or older, are receiving personalized treatment from multidisciplinary teams at designated hospitals, said Wu Jinglei, director of the Shanghai Municipal Health Commission.
"All of them suffer from serious underlying diseases," Wu said.
Another seriously ill patient, a 33-year-old, has a severe autoimmune ailment.
All the severely ill elderly patients also suffer from other diseases such as diabetes, cardiovascular and cerebrovascular diseases, malignant tumors, pulmonary embolism, and chronic obstructive pulmonary.
"While actively dealing with the novel coronavirus pneumonia, these patients are treated with ventilator-assisted respiration, extracorporeal membrane lung (ECMO) devices, anti-virus and anti-infection therapies, and symptomatic nutritional support," Wu said.
Only one of them had been inoculated with the COVID vaccine.
The commission has reminded elderly residents without contraindications to complete the full vaccination regimen and receive booster shots, because it will help prevent them from developing severe cases or dying after contracting the virus.
"We suggest that unvaccinated elderly people who are eligible get vaccinated after the lockdown in their compounds are lifted and the vaccination sites open," Wu said.
As of Friday, nearly 3.6 million, or 62% of, Shanghai residents aged 60 or older have completed the full vaccination regimen, and 2.18 million, or 38% of the elderly population, have received booster shots. The figures are still unsatisfactory, Wu said.
Shanghai registered 2,417 locally transmitted confirmed COVID-19 cases and 19,831 asymptomatic infections Sunday. The number of daily reported infections in the city has surpassed 20,000 for 10 consecutive days.
"Although the daily figure remained at a high level, it has been stable. More importantly, the percentage of infections detected among the public has been decreasing," Wu said.
He reiterated that Shanghai will stick to dynamic zero infection strategy and will carry out nucleic acid tests along with antigen tests on all the residents over the coming days.
Gao Chunfang, director of the test processing center at Shanghai Yueyang Hospital, said that highly frequent and repeated nucleic acid tests for all residents are necessary at this stage.
She said that after contracting the virus, people undergo an incubation period in the initial stage in which the viral load is too low to be detected.
"Repeated tests can increase the probability of detecting infections, especially the asymptomatic ones, in time, and to stop the spread of the epidemic with timely control measures," Gao said.(China Daily)