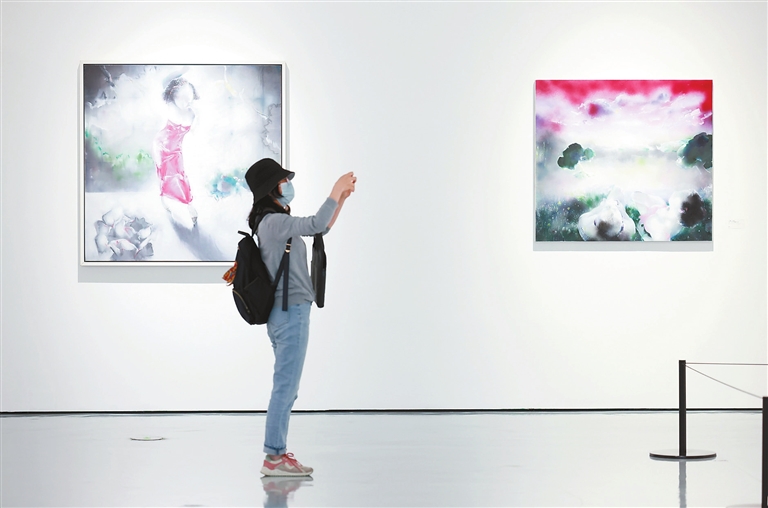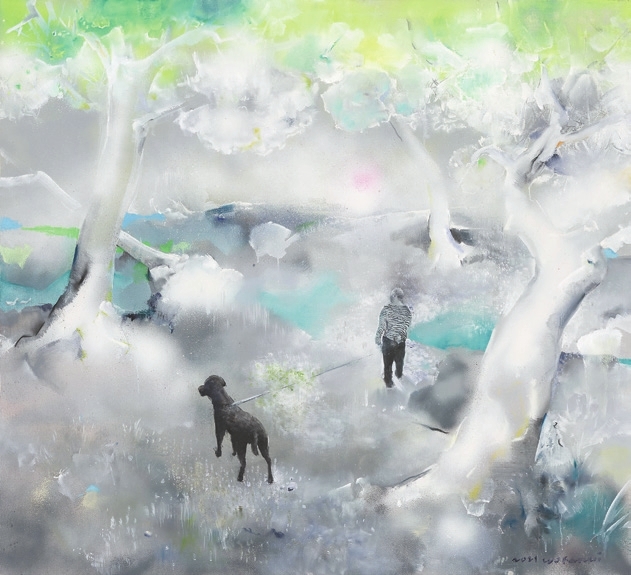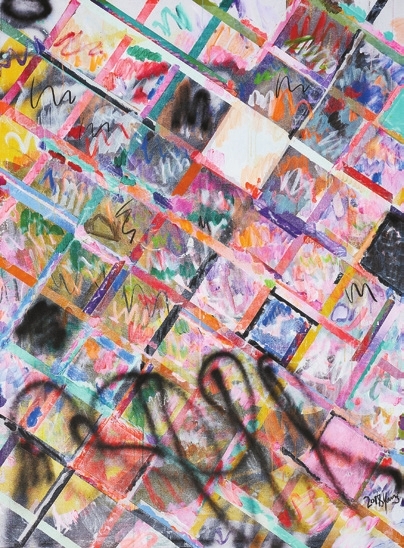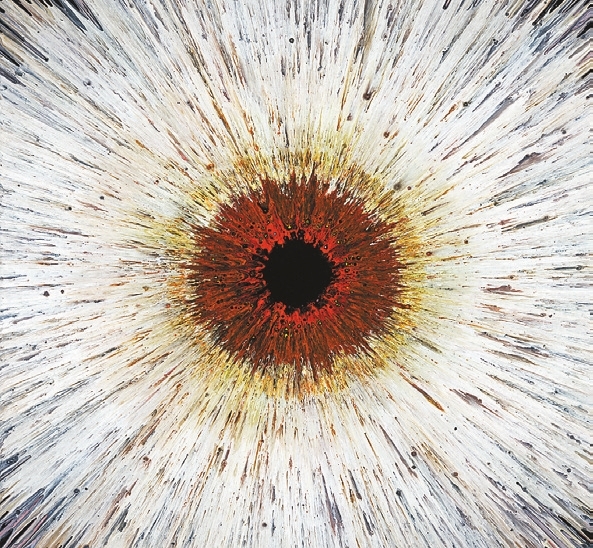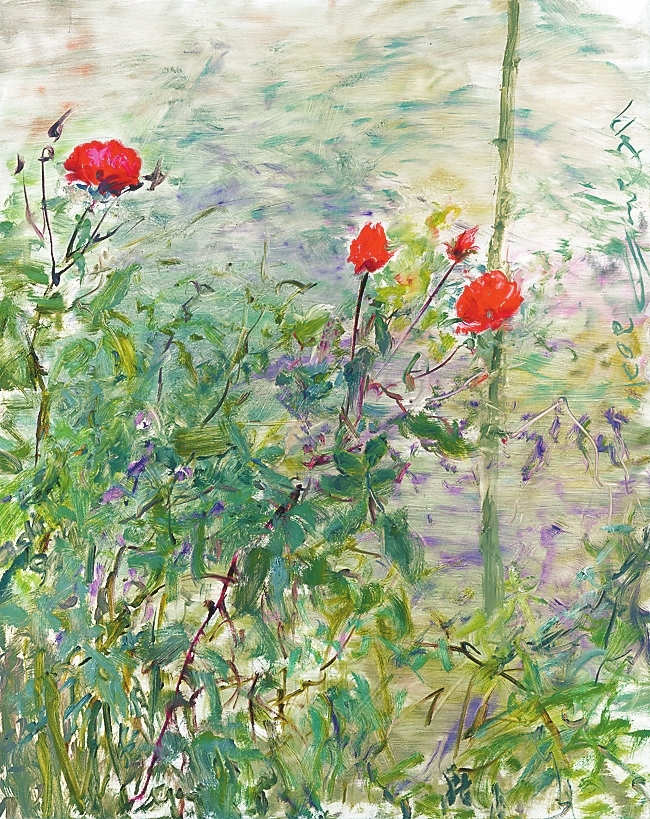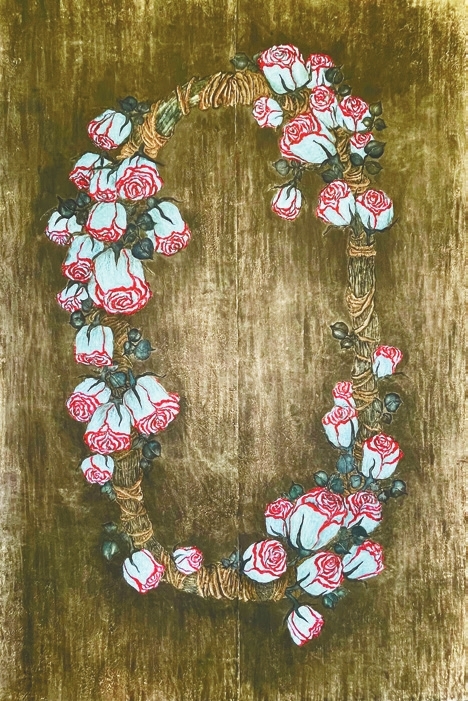 Debra Li
debra_lidan@163.com
IT'S a shame that the splendid flower fair at the Fairy Lake Botanical Garden closed before the venue reopened to the public earlier this month after the COVID-19 lockdown. Such beauty of nature went largely unappreciated except for a few glimpses that people could steal from videos posted online.
However, it's not yet too late if you are a fan of flowers and art. Through May 4, an exhibition of contemporary art — a large proportion of the exhibits featuring flowers — is on display at the Art Museum of the Guangming Culture and Art Center.
The exhibition titled "Sublimation," with art critic and professor of Sichuan Fine Arts Institute He Guiyan as its academic consultant, presents 54 paintings, sculptures and installations from nine contemporary artists. "Most of the featured artists are from Southwest China's Sichuan Province or Chongqing Municipality," explained Zuo Qianqian, co-curator of the exhibition. The exhibition, presenting the recent and representative works of these artists, provides a unique experience of the labyrinth garden of Chinese contemporary art.
"Since ancient times, Sichuan people have been known for their leisurely lifestyle and exquisite hobbies. 'Hua Jian Ji,' the first anthology of songs, a poem style popular during the Song Dynasty (960-1279), was compiled by Zhao Chongzuo from Sichuan. Coincidentally, the title of that collection reflects Zhao's love of flowers," she said.
Most of the paintings on display at Hall A on the second floor of the venue take flowers as their subjects.
He Duoling, born in 1948 in Chengdu, is known for his oil paintings of portraits, landscapes and still life. His works have reflected the influences of realism and impressionism from the West but in recent years, have been more swayed by the style of classical Chinese ink paintings. His oil on canvas series "Assorted Flowers" reflects the ease of a mature artist who has found the balance between Western painting skills and Chinese aesthetics.
Luo Fahui from Chongqing Municipality paints roses and women. His style is avant-garde and easily recognizable among his peers. The huge roses he puts on canvas, of striking colors, are interpreted as metaphors for lust and vitality.
Yang Shu, a middle-aged artist based in Chongqing, learned oil painting at the Sichuan Fine Arts Institute in the 1980s and has been one of the pioneers of experimental art in China. Abstract and expressive, his works combine graffiti, collage and other modern forms. His acrylic on canvas, titled "2018 No. 6," is reminiscent of the stained glass windows of churches covered with occasional graffiti.
Ma Li's acrylic on canvas series titled "Universe" uses abstract lines and exuberant colors to mimic the explosions that gave birth to the universe. Ye Zhou's acrylic on linen works remind people of the works of Piet Mondrian, a play of pleasing colors and patterns.
Wang Wei, a professor with Southwest Minzu University, has displayed the delicacy typical of female artists in her works. Using Morandi colors to create women characters or beautiful objects like a vase of plum blossoms, a teapot and a book, she presents works brimming with a demure Oriental beauty.
He Weina, a woman artist born in Chongqing, started to learn ink paintings from an early age. Her subjects include her favorite flower clematis and mundane objects like a fish tank or a bowl of fruit, but are nothing like traditional ink paintings. The colors are vivid and bold, while the images are exaggerated and impressionistic.
The exhibition also presents the sculptures of Shi Jindian, known for his surreal yet realistic sculptures of everyday objects, such as a cello, a guitar or a piano. Instead of using materials like stone, wood, bronze or acrylic plastics, he uses stainless steel wires to weave his works, which blurs the distinction between a sculpture and an installation. "Traditional sculptures often make me wonder what's literally inside a piece of work," Shi once said at an interview during his solo exhibition at a gallery in Chaoyang, Beijing in 2017. "My approach is to present the 'invisible' by providing quasi-transparent sculptures, which can present themselves with flexibility in the play with light and shadows, not intrusive upon their surroundings."
A young artist, Yuan Xiaotian, presents a few installations, with one impressive piece titled "Road to Freedom." She had the names of remarkable women in history branded onto a stainless steel wire mesh.
The exhibition is a highlight of the second "Ming Festival" held at the center, a landmark cultural facility of Guangming District that was put into use last year. Shows, lectures and other events will last through July.
The exhibition opens free to the public.
Time: 10 a.m.-6 p.m., until May 4
Venue: Hall A, 2/F, Art Musuem, Guangming Culture and Art Center, northeast of Guanguang Road, Guangming District (光明区观光路东北侧光明文化艺术中心美术馆2F展厅A)
Metro: Line 6 to Fenghuang Town Station, Exit B (地铁6号线凤凰城站B出口)